This is an open space designed by Isamu Noguchi for flowers. It's made of stones, and water and titled "Heaven".
"Heaven" designed by Isamu Noguchi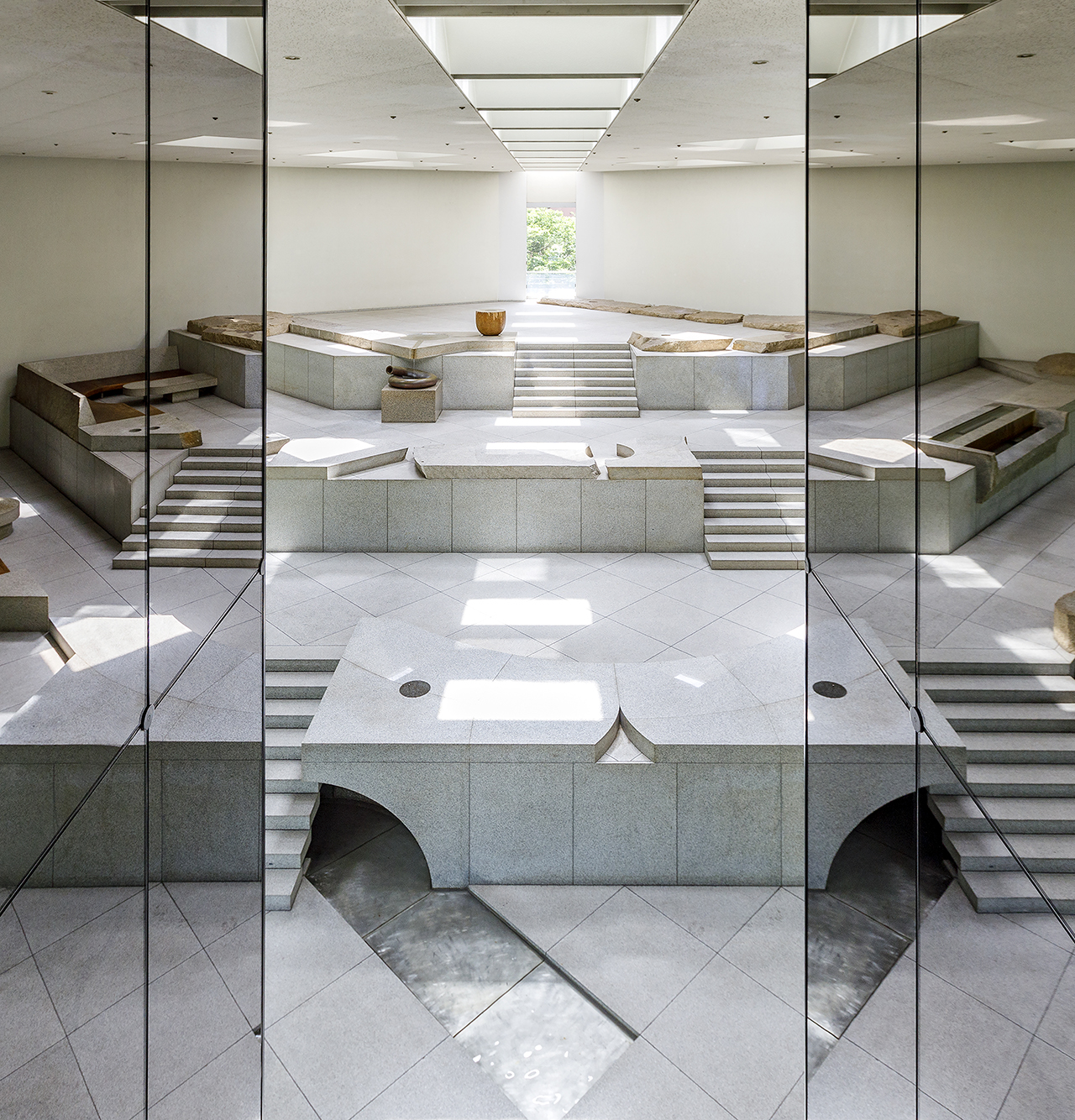 As requested by Sofu Teshigahara in 1977, the indoor stone garden was designed by Isamu Noguchi, and completed in 1978.
He kept his attachment to this space ever afterwards. "The Duo Exhibition Isamu Noguchi and Hiroshi Teshigahara" was held there in 1980. In 1984, celebrating Isamu Noguchi's 80th birthday, his "Akari" (lighting works)" were exhibited there.
It has been used for exhibitions of Sogetsu ikebana and other art works, live performances, photo-shoot locations, fashion shows, and presentations of creative art works.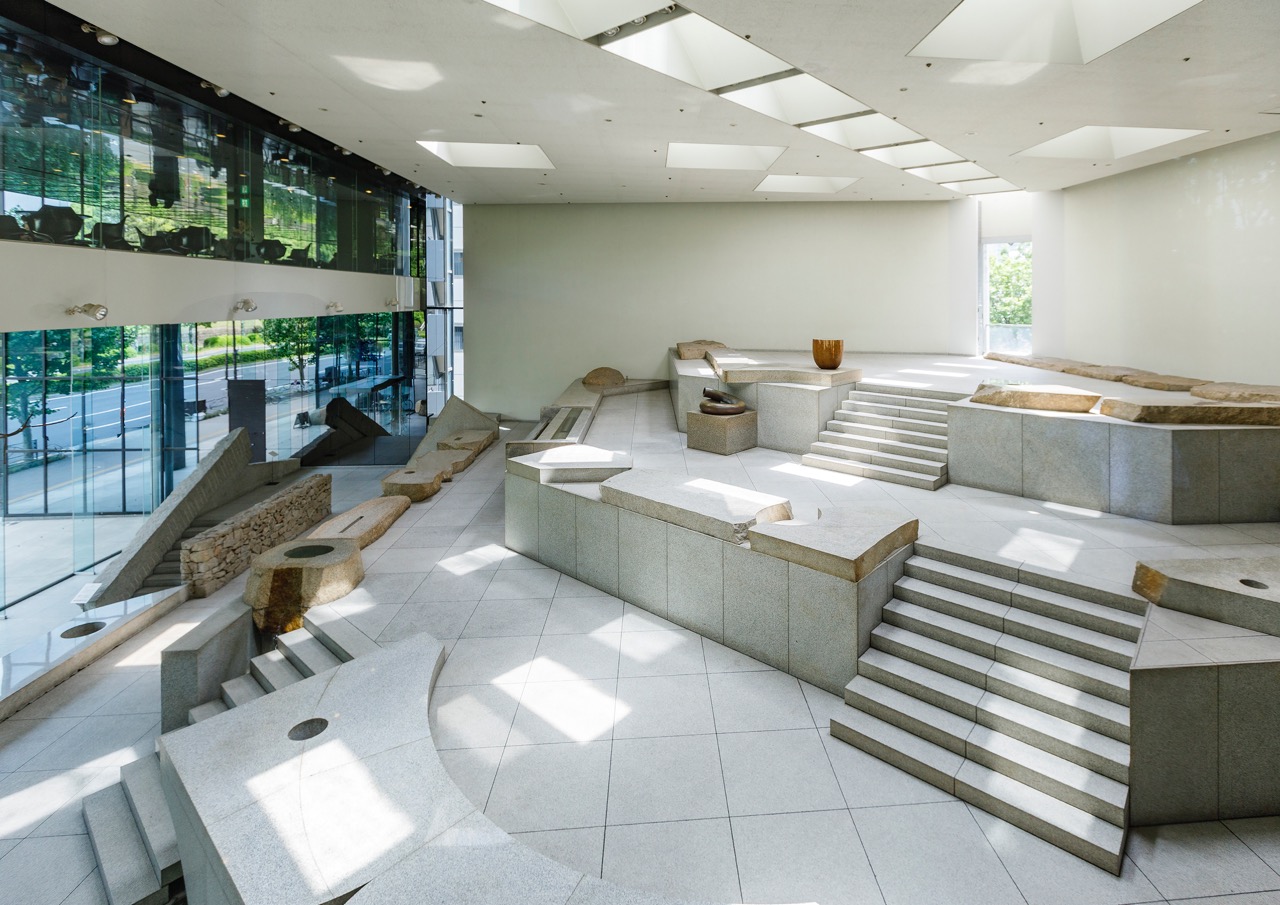 Sogetsu and Isamu Noguchi
"Both my father Sofu and I knew Isamu well. I heard from my father that Isamu once said, "If you set a pine, it should not look like a pine. It is very difficult not to make it look like a pine, though. Am I right, Sofu?" My father took the words very seriously because, I think, they reflected Isamu's original view of ikebana that the particularities of pine as a material are supposed to have been digested and assimilated into the completed ikebana work. I like these words very much, too.
Isamu viewed things from a broad and comprehensive perspective. He was a pioneer among environmental artists. When Isamu received the Kyoto Prize, I rushed to the symposium held there and congratulated him by calling him "Rikyu of the modern age." Sen-no-Rikyu was a man of total artistic creation. He made all the artistic arrangements of a space to bring his guests into and offered the best possible hospitality. I heard that Isamu had a particular interest in Rikyu. The ultimate goal of interaction between people and arts, I believe, is to realize high levels of artistic endeavour for entertaining people. This is the way in which I see the connection between Rikyu and Isamu who created urban yet soothing spaces in this 20th century.
What I feel from Isamu's recent stone sculptures is that he minimizes his own work on the stones while making the best use of their original beauty. When Isamu showed me around his studio in Takamatsu, he said to me, "Hiroshi, these works are my intrusions forgiven by nature (or stones)." The artist admits he is damaging the stones and yet he is forgiven by the stones…. Here I can see a total unity between the artist and the nature. The words are stunning to me as they express his view of the arts modestly but clearly. Isamu reached to such heights in his later years. Including the previous comments on pine, his words, coming out of his mouth after thinking hard and leaving out trivial matters due to his limited fluency in Japanese, can astonishingly move people's hearts.
Isamu left us a marvelous monument in Sogetsu Headquarters Building, that is, the Sogetsu Plaza of "flowers, stones, and water" in an open space through two floors. It was my father who proposed to ask Isamu to design there when some 70% of construction of the building was already completed. This came true thanks to the consent of Mr. Kenzo Tange, the total designer of the building. My father made no request at all and left everything to Isamu. He did an excellent job with pleasure. (The rest is omitted.)"
Excerpted from an article written by Hiroshi Teshigahara on Sankei Newspaper dated January 26, 1989
The Sogetsu Plaza is reservation-only. If you would like to visit, please contact the following department in advance. Visitors can make a reservation by e-mail.
[Opening dates and hours from March to June]
Notice: No observation day from March to June for lending
However, the following events will be held.
*closed on Saturdays, Sundays, and holidays (*Except for the above)
Please write the names, prefecture or country of residence for all those who will be visiting, as well as the total number of visitors.
Please indicate your first and second choice of date and time in the order of preference.
[Upcoming Exhibitions] *Not sponsored by Sogetsu Headquarters.
We will update you when we have more information.
*Visiting time is within 15 minutes.
*Taking photos or recording videos is not allowed.
*No eating or drinking in this area.
*There are no elevators or slopes, and the only way up or down is by stairs. Please understand that it may be difficult for visitors in wheelchairs.