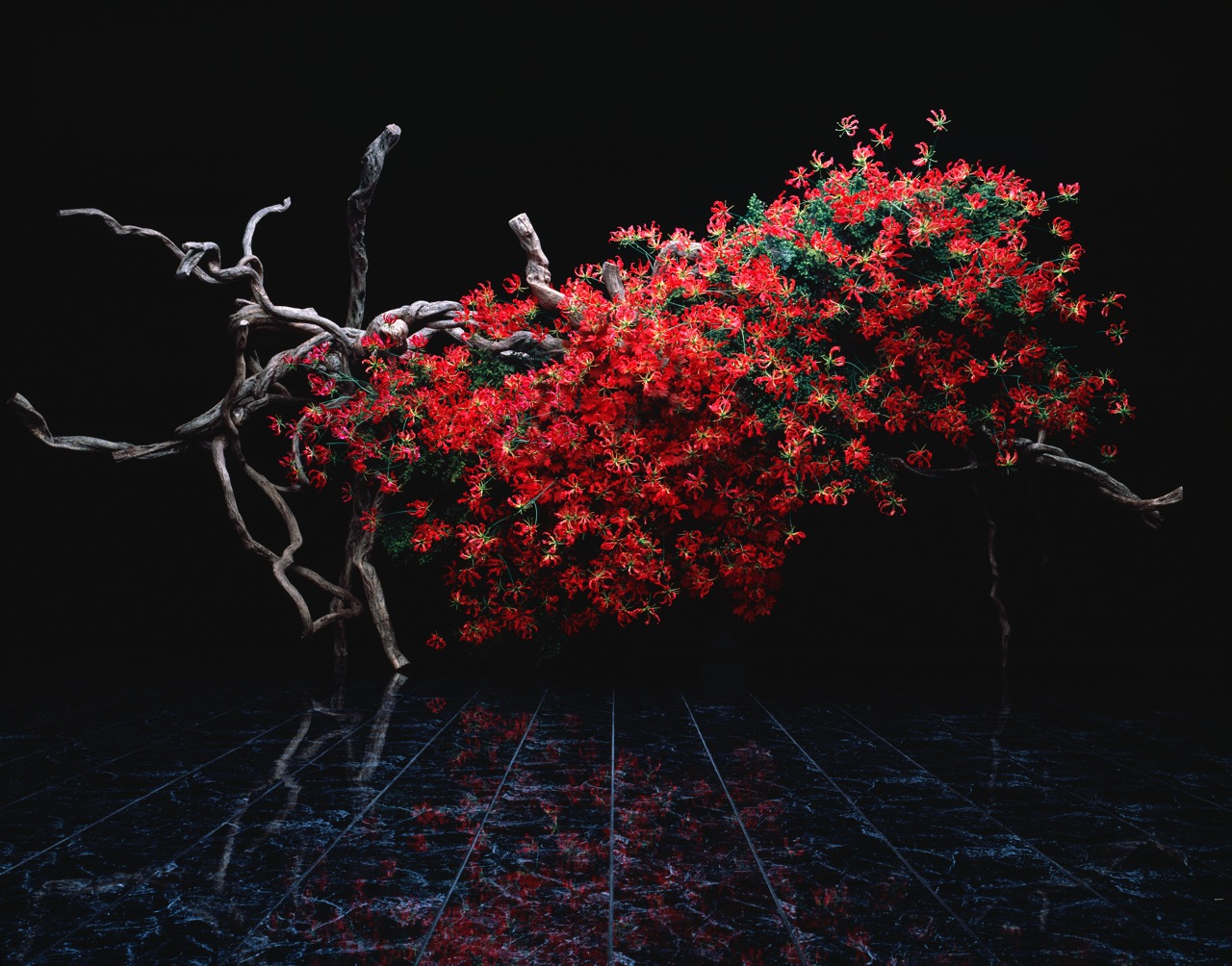 (2006)

The work produced for the TVCM "Red Flower" version of Hitachi Digital High Definition "Wooo" in 2006.
In this work, 1000 pieces of gloly lily which can be said to be synonyms of Iemoto Akane are used, its size is 7 m in width and 2.5 m in height.
Gloly lily's burning red and the dynamically undulating wisteria vine's expressions leave a vivid impression.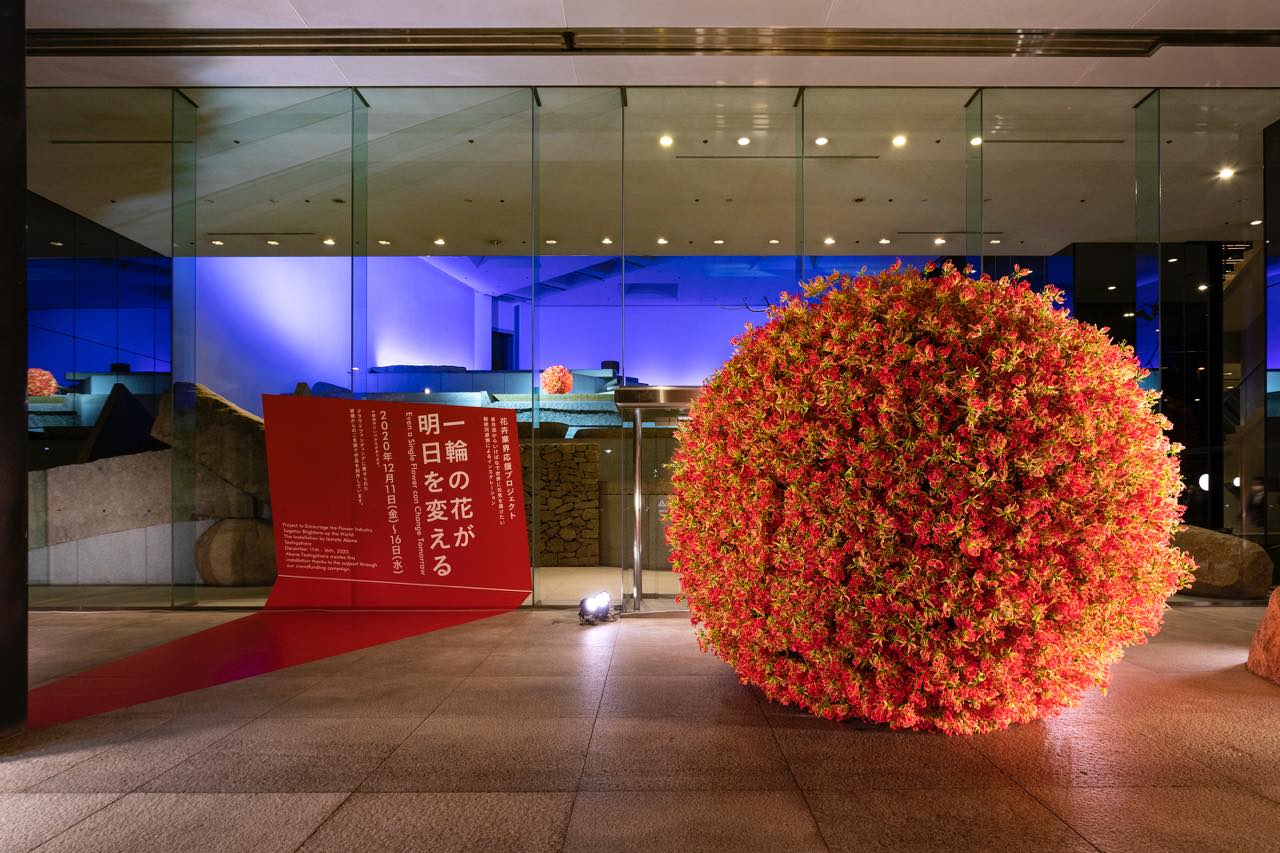 [Project to Encourage the Flower Industry] Even a Single Flower can Change Tomorrow
(2020)

Sogetsu Foundation called for the crowdfunding to support the flower industry, which has been seriously affected by the coronavirus pandemic. With well-wishers' donations, Iemoto Akane created a huge spherical installation using 5,000 "Southern Wind" glory lilies. The funding was very successful and over-achieved its target by far.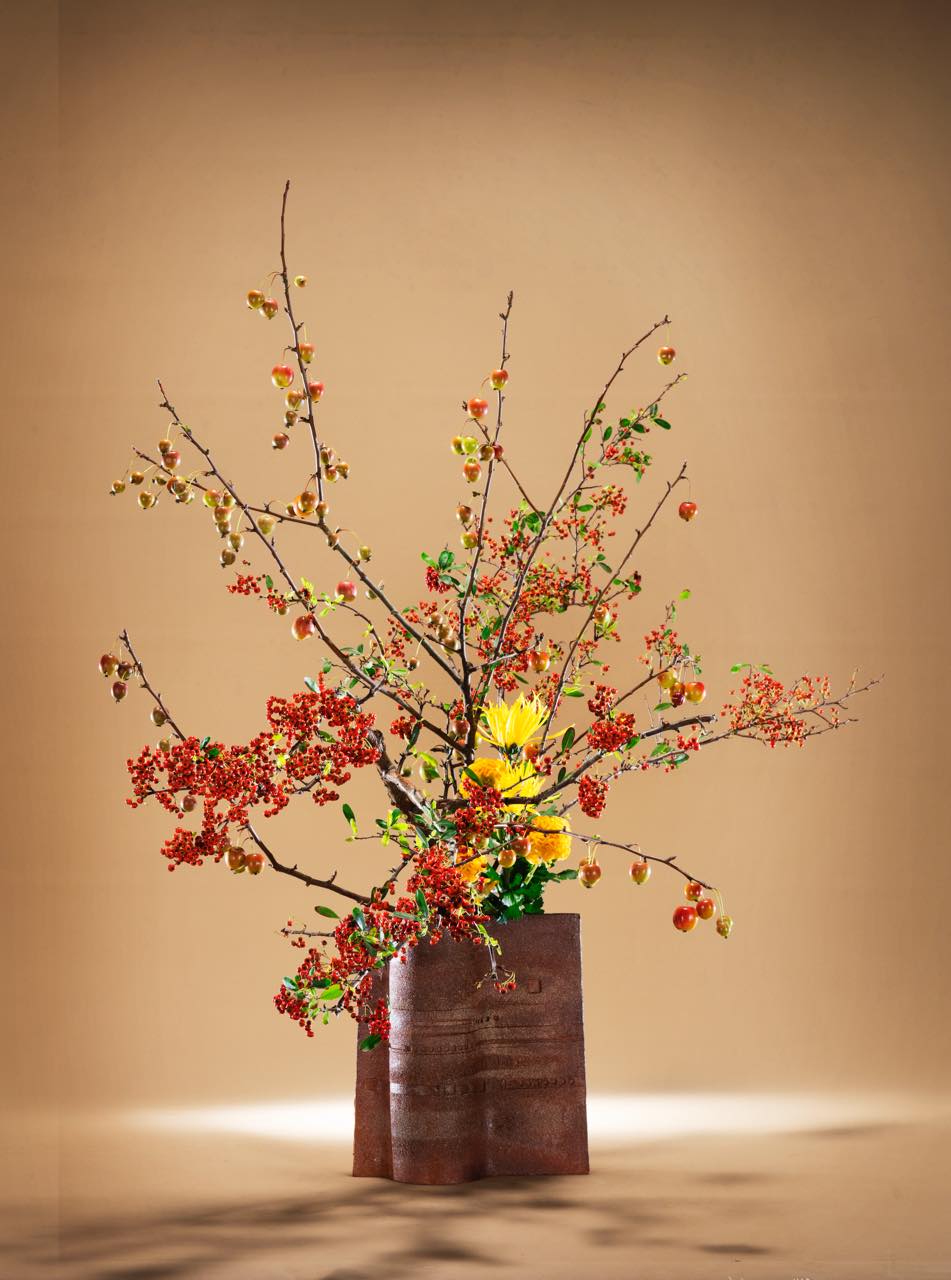 Materials: Manchurian apple,Fire thorn,Chrysanthemum,Cockscomb
Vessel: Ceramic vase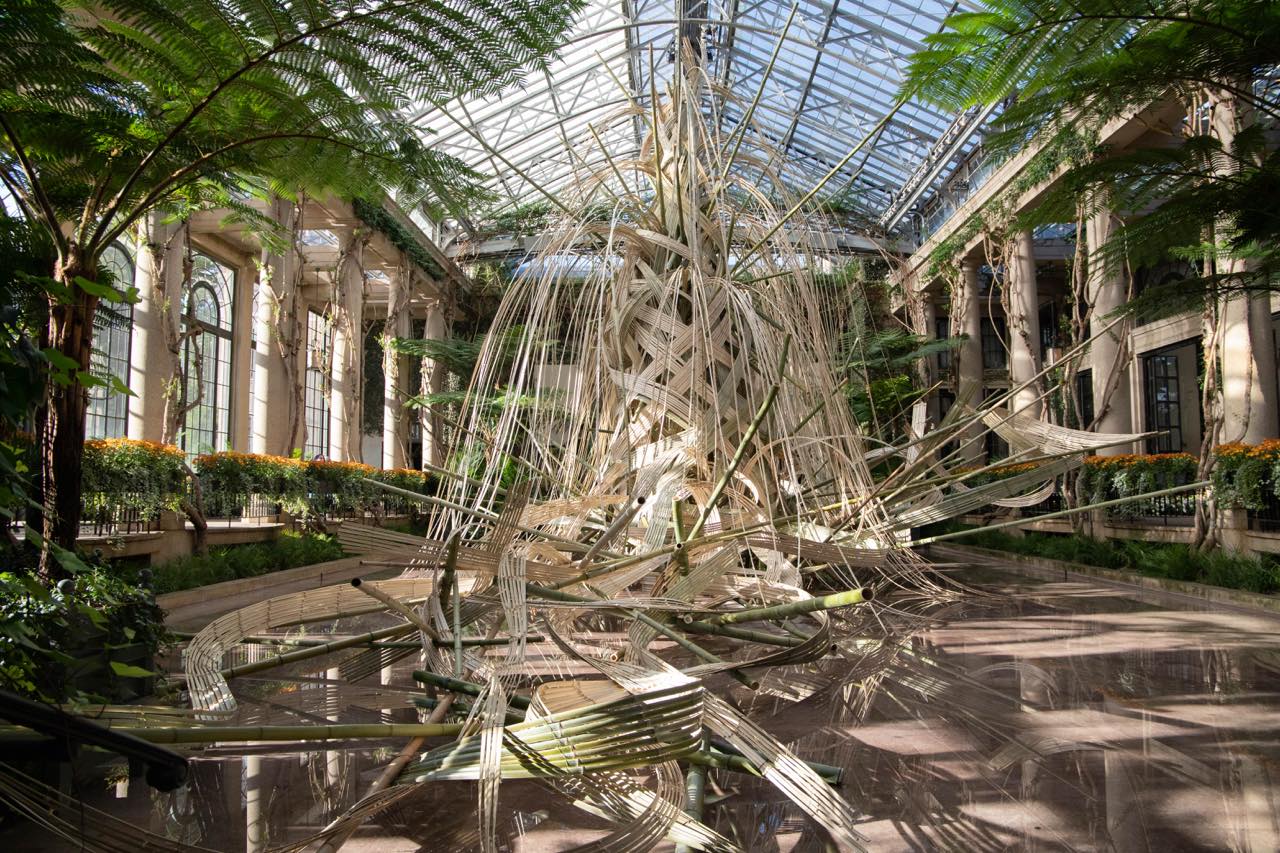 Installation Display at Longwood Gardens
(2019)

Longwood Gardens, situated in the suburbs of Philadelphia, USA, is known as one of the most beautiful gardens in the world. The collaborative project was a long-held wish for both Sogetsu school and Longwood gardens and finally was realised in 2019. This work, entitled Kodo (pulse), had a total length of about 8 m (26 ft.), making it one of the Iemoto's largest ever works. The Iemoto says, "I expressed the birth of unknown life with intricate bamboo swells." The work integrated with the beauty of the gardens was admired and praised for its graceful and dynamic expression. Sogetsu Atelier staff from Japan, Longwood Garden staff, and the members of local Sogetsu groups worked together for two weeks to create this splendid installation.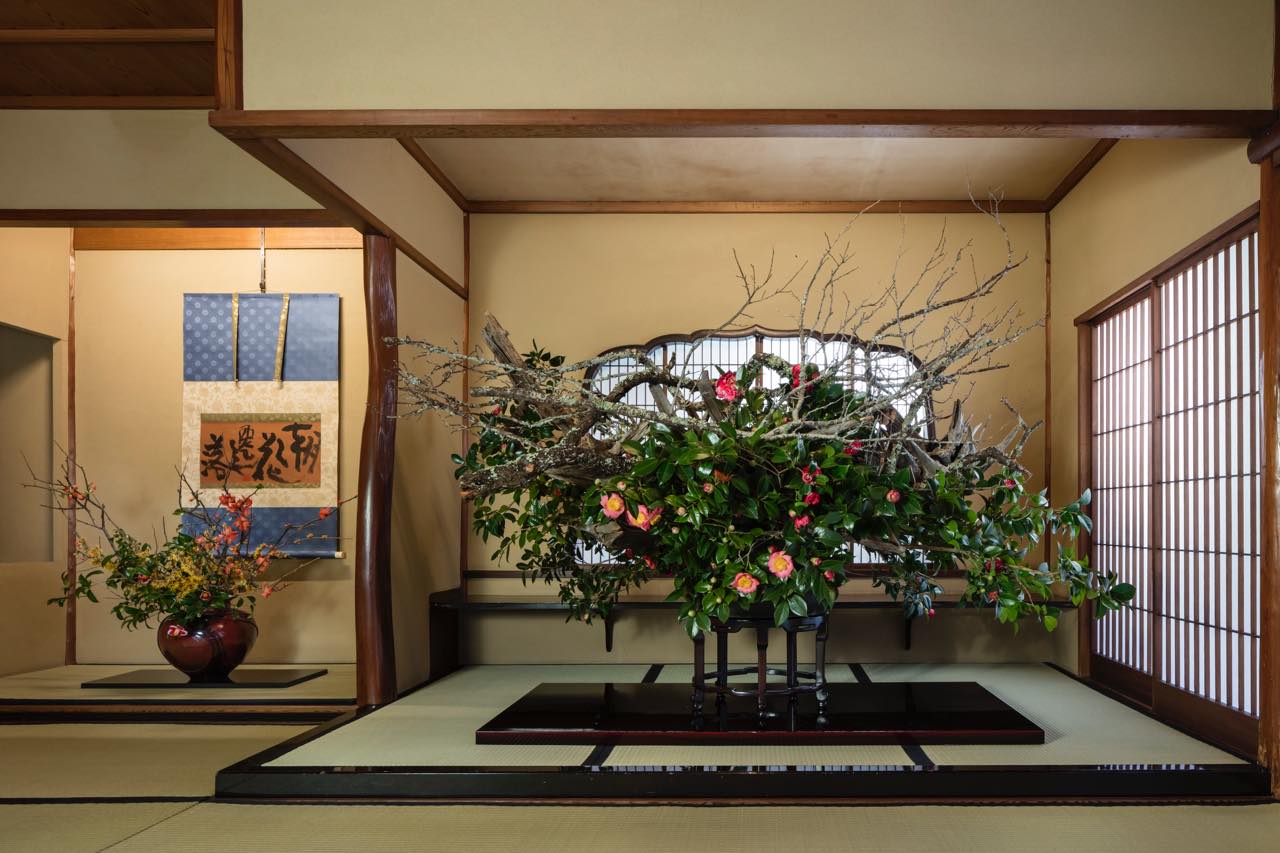 Museum Collection Exhibition "Paintings Created as Sets" Special Event: Akane Teshigahara "Enjoying the Spirit of Camellia in the Tea Room inspired by One Hundred Camellias"
(2020/Nezu Museum, Tokyo)

As a special event held in conjunction with the Museum Collection Exhibition "Paintings Created as Sets",the Iemoto created several works using camellia in the tea houses "Kōnintei" and "Bujian" in the garden. The Exhibition "Paintings Created as Sets" is inspired by Hyakuchin-zu or One Hundred Camellias (said to be painted by Kano Sanraku) displayed annually. The camellia is our founder Sofu's favorite flower and with which Sogetsu School is closely associated. With four arrangements using camellias , Iemoto exhibited its dignified beauty and poise to the full.

Kōnintei / Shoin
Materials: Camellia (Manzairaku, Daikagura, Yabutsubaki), Japanese apricot with moss, Driftwood
Vessel: Bronze vase