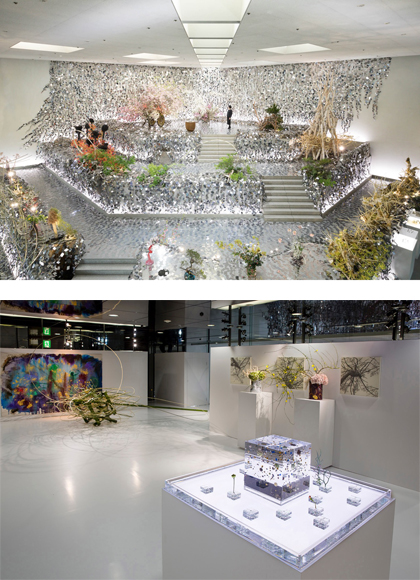 The Solo Exhibition of Akane Teshigahara for Sogetsu 90th Anniversary "HANA SO"
(2017 / Sogetsu Kaikan, Tokyo)

Iemoto Akane's solo exhibition "HANA SO" was held to commemorate the Sogetsu 90th Anniversary. Using the Sogetsu Kaikan as its stage, the Iemoto collaborated with various artists.
The design office nendo led by Oki Sato and the space design office onndo covered the indoor stone garden "Heaven" with numerous "mirror ivy" leaves made of stainless steel plates. This splendid venue design received many design awards. Together with the Iemoto's impressive works which were filled with vitality, the stone garden was transformed into a sparkling unique space and became the highlight of this exhibition.
In the special exhibition "Collaboration between Akane Teshigahara and Modern Art," interactions between artists belonging to the Tomio Koyama Gallery for contemporary art and ikebana creations of Iemoto Akane who is inspired by their art works attracted great attention.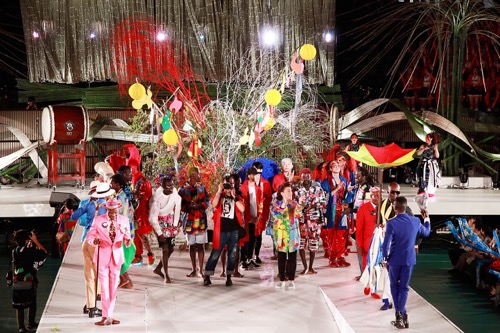 NIPPON GENKI PROJECT Super Energy!! 〜Invincible Colorful Boys & Girls on Earth!!〜
(2016 / Yoyogi National Stadium Second Gymnasium, Tokyo)

"Super Energy!!" was a show event produced by world-famous fashion designer Kansai Yamamoto. Raging human energy was expressed, together with over 500 cast who sympathized with his passion, "Let's energize Japan!"
Iemoto Akane decorated the bamboo stage and did an ikebana performance. Some Sogetsu members also showed up on the stage and greatly energized the venue. A completely new collaboration was realized, disregarding nationality, race, age, professional and armature, as well as cultural and traditional differences, and transcending complicated barriers such as industry, genre and brand.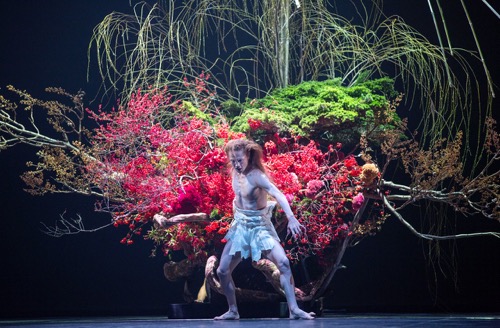 Breath of Sound – Act II: Demon Flowers
(2013 / Tokyo Bunka Kaikan, Tokyo)

Iemoto Akane supervised the stage art of Act II, "Demon Flowers" in the "Breath of Sound" in which Japanese music was combined with dance. In front of the backdrop of her large work arranged with autumn fruiting branches and flowers, dancer Kaiji Moriyama danced to the flute sound of Japanese hayashi musician Tōsha Meishō. At the climax, Moriyama powerfully pulled out her large work to the center of the stage, thereby making a collaboration not just creating a decorative work for the stage.