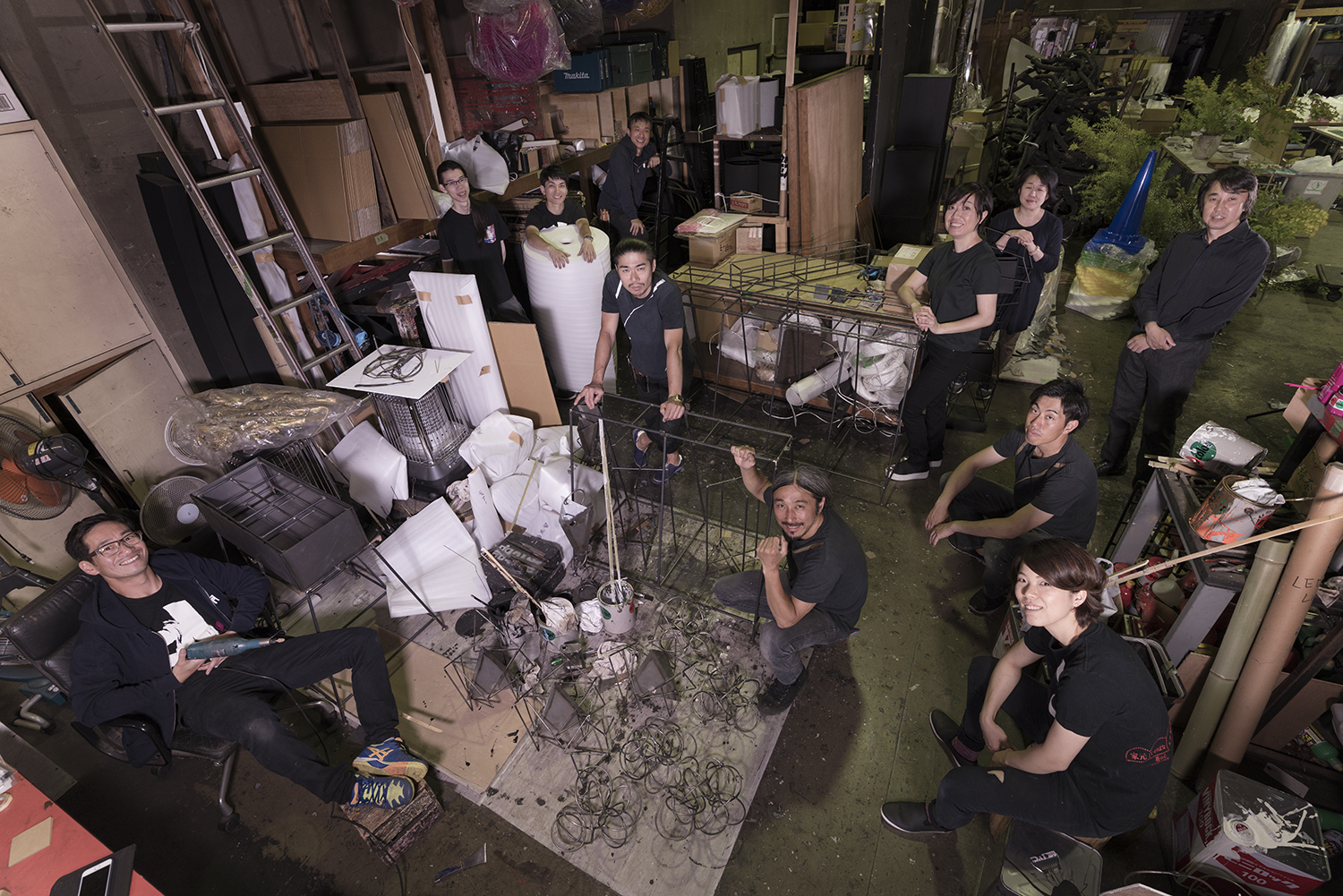 Since the time of the first Iemoto Sofu Teshigahara, the Atelier has been supporting the work of the Iemotos' ikebana. Recently, they formed an ikebana performance unit called "Za Sogetsu," and are actively engaged in various events.
What is the ikebana performance unit "Za Sogetsu"?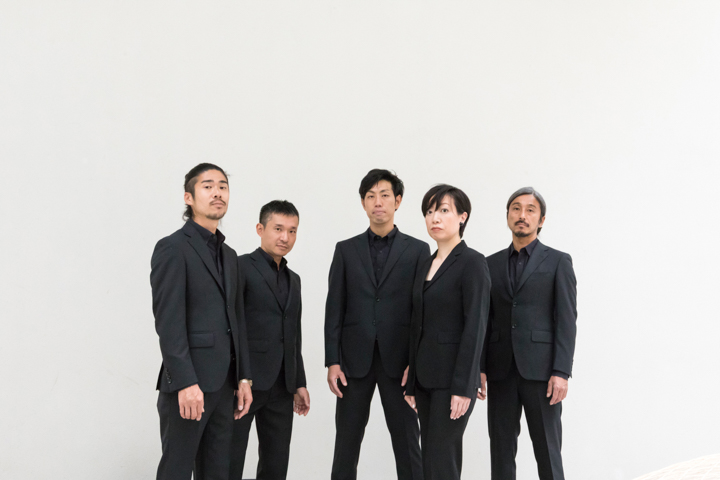 "Za Sogetsu" is Ikebana performance unit which was formed in June 2018 by the Sogetsu atelier staff who worked under the fourth Iemoto Akane Teshigahara. With their exquisite aesthetic sense and technical skills accumulated over the Sogetsu history, they perform and create amazing ikebana works of large scale. The speed, elegance  and accuracy of their movements in creation are breathtaking and now "Za Sogetsu"  performance is  renowned as one of the representative of new dynamism of  Sogetsu School.
Their innovative style of performance is developing into an entertainment to delight people worldwide and the originality of the complete works communicate the splendor of ikebana .
Keep your eyes on their future performances!
February, 2018: Performed in "Kisaragi chikusai" (related event with FLOWERS by NAKED 2018 Rondo)
February, 2018: Collaborated with "Wagakki Band" in Asahi TV's programme,  "Music Station".
June, 2018: The Iemoto Akane Teshigahara named them "Za Sogetsu".
October 2018: Live performance in Tamagawa Takashimaya S.C.
December 2018: Performed "Greetings of the Season" at Sogetsu Atelier (Akasaka, Minato-ku)
February 2019: Performed "Bridging past and present" (related event with "FLOWERS BY NAKED 2019" in Nihombashi, Tokyo)
June 2019: Collaborated with "Ongakuza" in the musical "Good Bye My Darling ★".
At Tokyo West Branch Exhibition
"Za Sogetsu" in collaboration with a Japanese drum performer group "TAKA" at the entrance of Hanamidori Cultural Center in Showa Memorial Park on March 2nd, 2019
During the Tokyo West Branch Exhibition in which Iemoto also exhibited her work, "Za Sogetsu" collaborated with a Japanese drum performance group "TAKA" to present a thrilling live performance.
At an event "FLOWERS BY NAKED 2019" in Nihombashi, Tokyo, in collaboration with Sogetsu School of Ikebana
"Za Sogetsu" presented an ikebana performance titled "Bridging past and present" at Nihombashi Mitsui Hall on Feb. 5th, 2019.
A space and graphics creative company NAKED headed by Ryotaro Muramatsu directed "FLOWERS BY NAKED 2019 in Nihombashi, Tokyo," in which Iemoto Akane Teshigahara collaborated to produce the visitor-interactive show. As a special event there, a live performance was held by "Za Sogetsu."
"Greetings of the Season" performance by "Za Sogetsu"
At Sogetsu Atelier on Dec. 7th, 2018
Their first solo performance was held at Sogetsu Atelier. The collaboration guest was Naoki Aikawa who is the drummer.  Envisioning the space there as a shipyard, they presented loading an ikebana treasure ship there.
For inquiries regarding the "Za Sogetsu" ikebana performance, please contact Hana Projects Department of Sogetsu Bunkajigyo Co., Ltd.
TEL:03-3403-5278
FAX:03-3408-5828
E-mail:hanapro@sogetsu.com