Akita Blanch Exhibition "A New Start"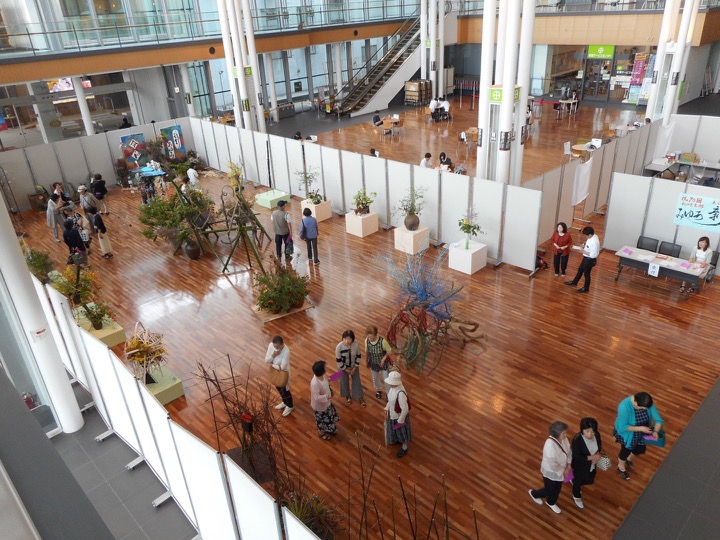 The Akita Branch Exhibition "A New Start" was held at Akita Kyoten Center ALVE from Friday, June 21st to Sunday, June 23rd, 2019.

Photo: View of the venue from the second floor.
Outline of the Exhibition
Date: June 21 (Fri.) – 23 (Sun.), 2019
Opening time:21th (Fri.) 1:00pm – 6:00pm
22th (Sat.) 10:00am – 6:00pm
23th (Sun.) 10:00am – 4:00pm
Venue: Akita Kyoten Center ALVE
Address: 4-1 Higashidorinakamachi, Akita
Admission: Free
The next leap forward for further development
The Akita Branch Exhibition was held at the Kirameki Square of Akita Kyoten ALVE, which has direct access to Akita JR Station.
This year marked the seventieth exhibition for the Akita Branch.
The exhibition was titled "A New Start" with the hope of getting a fresh start to make the next leap forward.
Designing the composition of the display by looking down at the entire venue from the second floor.
Works arranged with refreshing early summer materials encircled large works placed in the center. Exhibitors demonstrated their best skills and creativity that they acquired through constant training.
At the same time, the atmosphere was designed to make the visitors feel closer to ikebana.
Many works showcased a new change as if to embody the theme.