To celebrate the 20th anniversary of Akane Teshigahara's succession as Iemoto, we are releasing a limited number of Edo Komon silk cashmere scarves!
Registration has been closed.
Thank you very much for your application.
To celebrate the 20th Anniversary of Iemoto Akane, you can order the special edition of Hirose Dyeworks' "comment?" brand stole with print of the Iemoto's signature "Akane".
The soft texture of silk blended cashmere is perfect for any occasion.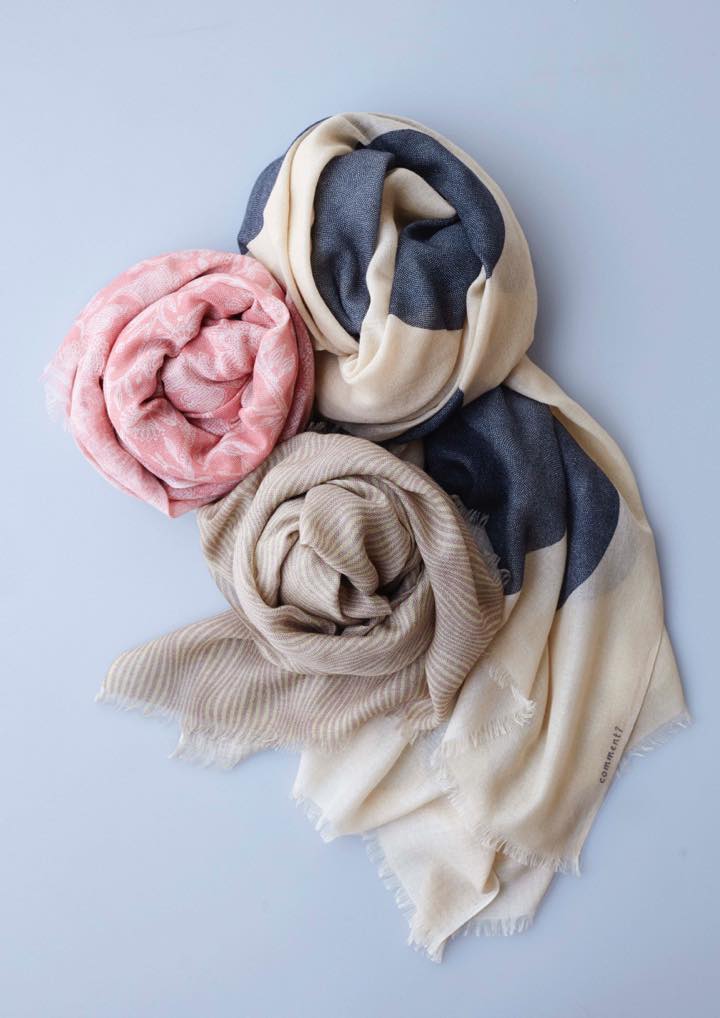 Left/ 【WATERDROPS】Bold and Modern. 32,000 Japanese Yen
Center/【Bamboo Motif -STUMBLING(sensitive wave-like lines)】
Fashionable and Chic. Reproduction of the 100th anniversary of Hirose Dyeworks. 32,000 Japanese Yen
Right/ 【SARASA】 Exotic and Elegant. 32,000 Japanese Yen
fabric: silk 50%, cashmere 50%
size: 100cm × 200cm
*Each piece is dyed by hand, so there may be slight variations in color.
How to order
Bespoke only. This product is made to order. Please allow time for delivery as each item is dyed individually, with the greatest care.
Order period:April 15(Thu)~July 30 (Fri), 2021
Delivery date:Products will be shipped from September.
How to order:Fax the order form or send a scanned image of Order Form to the e-mail address below. If you send us a photo image of the form, please make sure that all your information is clearly legible.
Sogetsu Bunkajigyo Co., Ltd. (Publications Dept.)
Sogetsu Bld. 4F, 7-2-21, Akasaka, Minato-ku, Tokyo, 107-0052, Japan
FAX:+81-3-5770-5607
E-mail:shuppan@sogetsu.or.jp
*The shipping costs will be covered by the Sogetsu HQ. We ship by EMS.
If EMS is not available, we will send the item by any available shipping method. Please note that you may be required to pay customs duty on receipt of your order.
Hirose Dyeworks, 100-year-old dyeing atelier of Edo Komon in Tokyo, Japan.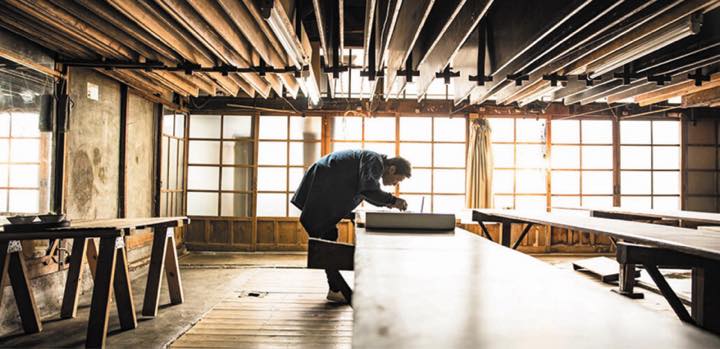 Edo Komon is a traditional Japanese hand-dyeing technique, originally developed for samurai who wore Edo Komon "kamishimo," kimono dress uniform, with their particular clan or family crest dyed on it.
Its delicate minimal pattern looked plain from afar, but were full of beautiful details when looked at closely.
Edo Komon technique asks for highly skillful artisans and is continued to this day, invoking a sense of awe and wonder.
Hirose Dyeworks was set up in 1918, in the Taisho era, and has been committed to innovating and handing down this precious Japanese traditional culture of Edo Komon for future generations.
Yuichi Hirose, the fourth generation of the family, has launched the new brand "comment?". It adapts the techniques of Edo Komon for stoles and ties following the vision of making traditional Japanese art suit the times internationally.
Iemoto Akane has been interested in "comment?" brand and Mr. Yuichi Hirose's work. When she visited the Atelier of Hirose Dyeworks and had an interview with him( for the article "My Style " in magazine "Sogetsu" Spring 2018 issue) ,she was amazed by the profundity of Edo Komon and was inspired by his vision. Since then, she wished to collaborate with him in some way and this project is the realization of this concept.
The Iemoto has picked out patterns and colors from those handed down in the Atelier since its foundation. They are only available as a limited edition to commemorate the 20th anniversary of Iemoto Akane.
Dyeing Process of Edo Komon

PAPER STENCILING / Intricate patterns are carved by hand on Japanese washi paper, fortified by persimmon tanning.
APPLYING PASTE / Paper stencil is placed on fabric and resist paste is applied, requiring full concentration.
CREATING PASTE / Resist and coloring pastes are made from rice and rice bran. Mixing paste builds muscles.
APPLYING BASE COLOR / Base color is applied on top of paste for background. Pasted area remains uncolored.
STEAMING / The colored fabric is then placed in a cypress steamer, so color settles in nice and even.
RINSING / Color and design stand out when rinsed thoroughly.
DRYING / Sun and wind gives the finishing touch.