Sogetsu Magazine 2021 Summer is on Sale!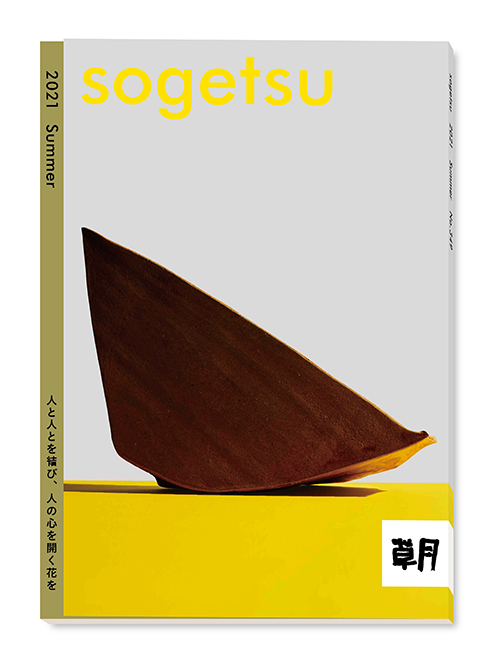 To create ikebana that brings people together and opens people's hearts.
Price:1,437 Yen
Softcover:88 pages
Language:Japanese and English
Dimensions:(W/H)210㎜/297㎜
Date of Issue:Jun/1/2021
Item No.:A5120
Iemoto 20th Anniversary Special Exhibition
"Hengen - From Hiroshi to Akane"
This year marks the 20th anniversary of Teshigahara Akane's succession as Iemoto on the death of the third Iemoto, Teshigahara Hiroshi. This April at the Sogetsu Plaza, the Iemoto arranged flowers in eight vases made by Hiroshi at the exhibition, "Hengen (Metamorphosis) – Hiroshi to Akane". Enjoy the timeless collaboration between a father and a daughter.
Iemoto Interview My Style 29
Guest: Motoki Katsuhide (film director)
Mr Motoki Katsuhide, a film director, known for his many hits such as "Samurai Hustle" and "Recall," is a guest in the interview. As he used to be an assistant director to Hiroshi, he talks about his memories of working with such a master and his personality.
Hiroshi's Aesthetics Expressed Through His Films
As a film director, Hiroshi made a great contribution to Japanese cinema. He expressed his aesthetics in his films "Rikyu" and "The Princess Goh," which he directed after his succession to the position of Iemoto. Let's take an overview of his aesthetics focusing on the famous scenes of these two films.
Teshigahara Akane Her Words and Works
About my father
Iemoto 20th Anniversary Special Exhibition 「Hengen-From Hiroshi to Akane」
Iemoto Interview My Style 29 Guest: Motoki Katsuhide (film director)
Hiroshi's Aesthetics Expressed Through His Films
Greeen leaves and flowers
Katayama Ken, Takagi Suisen, Sumura Eikou, Nishiyama Kosa, Taniguchi Chieko, Morange Makiko, Morita Reiyu, Kitauchi Suijun
Ikka-Sanbo(One kind of material in three distinctive variations)⑦:Horsetail
To the Cities of the World㉘ :Kiyoko Boycott in Vancouver.
What's in an ikebana work? (Sofu's Lecture Note) 22: "What's does 'ikeru' mean? and Working together"
Teacher's Workshop Thema:With Branches Only
Life with Flowers (Artist Profile): Hosono Yoka
Kiri's Scope 26
Kiri Teshigahara Interview with Prominent People in Hawaii: 8 Tamara Rigney
How to order
You can place an order or apply for a subscription at the Sogetsu Shuppan counter or through a certified Sogetsu teacher.
This magazine is also available at the Sogetsu Shuppan section in Shop Flora on the 4th floor of the Sogetsu Kaikan.
For information on mail-order, please refer to "Purchase via Mail-Order" in the Shop page.
Sogetsu Shuppan
FAX:03-5770-5607
E-mail:shuppan@sogetsu.or.jp
Subscribe to the Sogetsu Magazine
Sogetsu Quarterly Magazines(4 issues a year):9,148 Yen
(the shipping charge inc. & accepted Air only)
It usually starts from 2021 Summer to 2022 Spring.
However we accept to change that.
Please feel free to contact us.