Sogetsu Magazine 2021 Autumn is on Sale!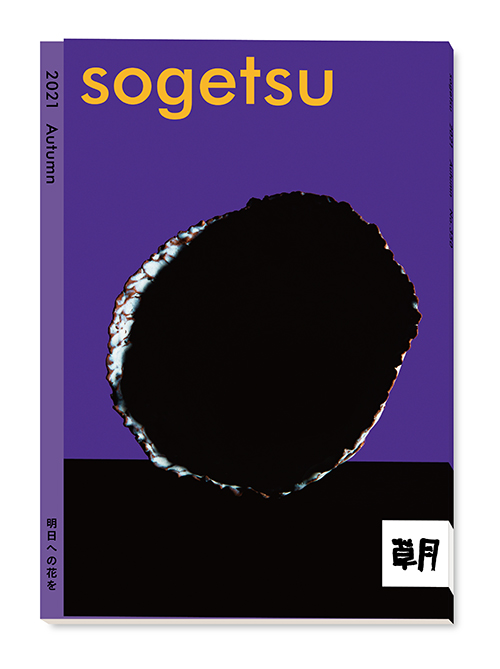 Flowers for tomorrow.
Price:1,437 Yen
Softcover:88 pages
Language:Japanese and English
Dimensions:(W/H)210㎜/297㎜
Date of Issue:Sep/1/2021
Item No.:A5121
20th Anniversary Akane Teshigahara Solo Exhibition "CONNECT"
Iemoto Akane held a solo exhibition entitled "CONNECT" in commemoration of the 20th anniversary of her succession as Iemoto at Sogetsu WEST, our new base in Western Japan.
That creative space, where the entire venue was made to look like a piece of artwork, was filled with the time and thoughts that the Iemoto had shared with plants, and drew many visitors despite restrictions due to the COVID-19 pandemic.
20th Anniversary : Kimonos with Memories
Since becoming the fourth Iemoto of Sogetsu in 2001, Iemoto Akane has appeared in various places wearing beautiful kimono.The Iemoto introduces 11 of her most memorable kimonos that she wore with all her heart and soul to suit the occasion.
In the "Baton of Vases", three artists arrange their ikebana using the same vase.
How do the vases look in the hands of each artist? Let's enjoy the twelve creative works arranged in four different vases.
Teshigahara Akane Her Words and Works
Reaching for the Future
20th Anniversary Akane Teshigahara Solo Exhibition "CONNECT"
20th Anniversary : Kimonos with Memories
Baton of Vases
Katayama Ken, Sekita Ikuen, Akiyama Miharu, Kato Kumiko, Sumide Bisen, Sawada Koei
Flowers in profusion
Isono Gaho, Iwabuchi Koka, Okazaki Shinobu, Ozawa Seiko, Yamada Soho, Kubo Tankei, Fukushima Koka, Takenaka Reiko
An artist trying to change the world Nagasaka Mago
Ikka-Sanbo(One kind of material in three distinctive variations)⑦:Baby's breath
To the Cities of the World 29 : Louise Worner in Madrid
What's in an ikebana work? (Sofu's Lecture Note) 23 : "If the flowers are the main feature, the container should be subordinate to the flowers.Likewise, if the container is the main focus, then the flowers should be secondary to it ", "Omission of Shushi(main stems)
Teacher's Workshop Thema:Arranging flowers with the color of the vase in mind
Life with Flowers (Artist Profile): Maeda Sanae
How to order
You can place an order or apply for a subscription at the Sogetsu Shuppan counter or through a certified Sogetsu teacher.
This magazine is also available at the Sogetsu Shuppan section in Shop Flora on the 4th floor of the Sogetsu Kaikan.
For information on mail-order, please refer to "Purchase via Mail-Order" in the Shop page.
Sogetsu Shuppan
FAX:03-5770-5607
E-mail:shuppan@sogetsu.or.jp
Subscribe to the Sogetsu Magazine
Sogetsu Quarterly Magazines(4 issues a year):9,148 Yen
(the shipping charge inc. & accepted Air only)
It usually starts from 2021 Summer to 2022 Spring.
However we accept to change that.
Please feel free to contact us.