Sogetsu Magazine 2021 Winter is on Sale!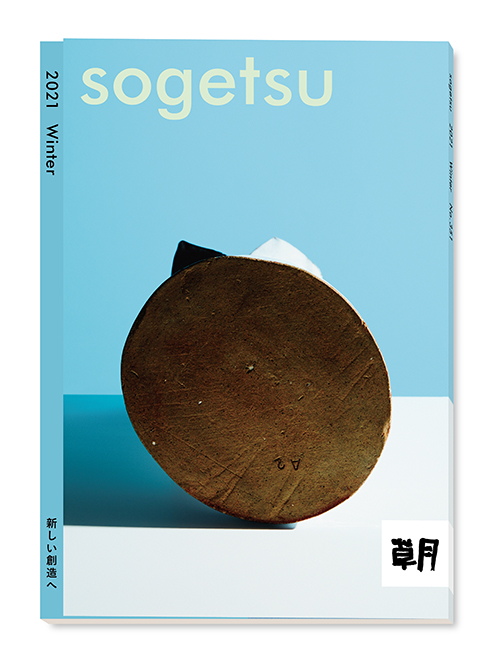 Taking on the challenge of creating something new.
Price:1,437 Yen
Softcover:88 pages
Language:Japanese and English
Dimensions:(W/H)210㎜/297㎜
Date of Issue:Dec/1/2021
Item No.:A5122
Installation of Ikebana Sogetsu School at CASA LOEWE Tokyo
In celebration of the launch of 'Botanical Rainbow', LOEWE's fragrance collection, Iemoto Akane's works and the first Iemoto Sofu's sculptures were exhibited at CASA LOEWE Tokyo. The photo of Iemoto Akane's unique work arranged in LOEWE's bag is sure to attract a lot of interest.
Collaboration with Posters from the Sogetsu Art Center
The Sogetsu Art Center was founded in 1958 by the third Iemoto Teshigahara Hiroshi who became the director of this institution with the intention to promote artistic exchange.As the epicenter of avant-garde art,it was a place where artists dreamed to perform. Avant-garde artists who gathered in the Sogetsu Art Center, used to produce very original and modern posters for each event. This time eight Ikebanists produced works co- ordinated with those eight avant-garde posters.
Arrangements using Mizuhiki
A festive arrangement to celebrate the New Year.By adding Mizuhiki (paper strings), you can make it look much more magnificent.This New Year, why don't you try creating your ikebana using Mizuhiki? 'More Ikebana⑧ "Mizuhiki"', a report on the visit to Shimo-ina- iida in Nagano prefecture, one of the best Mizuhiki-producing districts in Japan, will arouse your interest in this exquisite art of those decorative strings.
Teshigahara Akane Her Words and Works
For the sake of new creation
Installation of Ikebana Sogetsu School at CASA LOEWE Tokyo
LOEWE×TESHIGAHARA AKANE
Collaboration with Posters from the Sogetsu Art Center
Nakada Kazuko, Takenaka Reiko, Mori Sairin, Tazawa Ryo, Kikuta Teika, Ishikura Shosei
Katayama Koso, Nakamura Mishow
What is the Sogetsu Art Center, from which so much original expression emerged while playing a leading role in the art scenes in the 1960s? Focusing on the 'place' and the 'artists.'
Flowers in profusion
Sekita Ikuen, Ozawa Seiko, Kuboshima Iccho, Ishikawa Misei, Ito Seiyu, Sawada Koei, Eguchi Tamae, Shinozaki Junga, Genda Shiyo, Okazaki Shinobu, Takagi Suisen, Isono Gaho
Exhibition report Vol.3 CONTEMPORARY Ikebanaism
Ikka-Sanbo (One kind of material in three distinctive variations)⑧:Barroom plant
To the Cities of the World 30 : Ruby Maruyama in Colorado
What's in an ikebana work? (Sofu's Lecture Note) 24 : "Ikebana for winter"
Teacher's Workshop Thema:Arrangements for Celebrating the Iemoto's 20th Anniversary
Life with Flowers (Artist Profile): Fukunaga Sanae
Kiri's Scope 27
Kiri Teshigahara Interview with Prominent People in Hawaii:9 Will Gold & James Webb
How to order
You can place an order or apply for a subscription at the Sogetsu Shuppan counter or through a certified Sogetsu teacher.
This magazine is also available at the Sogetsu Shuppan section in Shop Flora on the 4th floor of the Sogetsu Kaikan.
For information on mail-order, please refer to "Purchase via Mail-Order" in the Shop page.
Sogetsu Shuppan
FAX:03-5770-5607
E-mail:shuppan@sogetsu.or.jp
Subscribe to the Sogetsu Magazine
Sogetsu Quarterly Magazines(4 issues a year):9,148 Yen
(the shipping charge inc. & accepted Air only)
It usually starts from 2021 Summer to 2022 Spring.
However we accept to change that.
Please feel free to contact us.