Sogetsu Magazine 2022 Summer on sale June 1!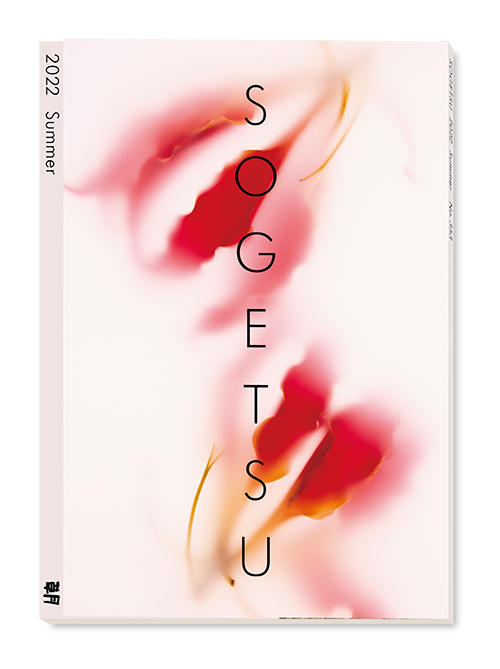 What's SOGETSU ?
Price:1,437 Yen
Softcover:88 pages
Language:Japanese and English
Dimensions:(W/H)210㎜/297㎜
Date of Issue:Jun/1/2022
Item No.:A5130
Iemoto Interview My style 30 Guest: Ms Omiya Ellie
Ms. Omiya Ellie is an artist and writer, known for her many talents. She and Iemoto have been friends since 2017 when Iemoto arranged flowers as part of her solo exhibition which was in collaboration with Ms. Omiya's paintings.Before this current interview she enjoyed Iemoto's ikebana lesson for the first time. What impression did she have after the ikebana lesson? They talked about their approach to dealing with plants as materials and how to create their own world in their works.
〈feature article〉REPLAY IN OHI
Ohi ceramic in Kanazawa has a history of over 350 years. The previous head of the family Toshiro Ohi was a classmate of the third Iemoto Hiroshi at Tokyo Fine Arts School. Their comradeship in class continued a long-standing relationship between the Ohi Family and Sogetsu. Enjoy the vessels Iemoto Akane herself shaped by hand at the kiln and her ikebana works arranged in the vessels made by the three-generation master potters of Ohi ware.
〈feature article〉GLORIOSA
This time we focus on gloriosa. This eye-catching flower, mainly known as a cut flower, also has little-known various characteristics such as its roots and seeds and how to grow them. This article which is full of fun trivia about the gloriosa is sure to attract a lot of interest.
Ikka-Sanbo:Leather flower
One kind of material in three distinctive variations. The leather flower can be arranged both in Japanese and Western styles. Trailing it down or using it in Kakebana (hung on the the wall) or Tsuribana (hung from above) enhances the beauty of the leather flower. You can also arrange just the leather flower leaving a few leaves on the stem. The leather flower, available almost all year round except midwinter, can be enjoyed in many different ways. Here Master Instructor Hinata Yoichi demonstrates three variations of arrangements using leather flowers.
Teshigahara Akane Her Words and Works
There is more than one answer
lemoto Interview My Style 30 Guest:Omiya Ellie(Artist/writer)
〈feature article〉REPLAY IN OHI
Déjà vu "REPLAY IN OHI" Ohi Chozaemon (Toshio) XI
Iemoto Akane enjoys hand-forming ceramics
Arranging Ikebana in Ohi Ceramics
Ohi Chozaemon ware which contributes to tea ceremony (sado) in Kanazawa
Ring of Prayers
〈feature article〉GLORIOSA
Anatomy of GLORIOSA
A visit to Misato area, Kochi Prefecture, the gloriosa-growing district
GLORIOSA by the Four Iemotos
Gloriosa in full bloom on Instagram # Kochi no hana-ouen purojekuto (the project to support the flower industry in Kochi prefecture)
Gloriosa at its best with green materials (the collaboration with Kochi Branch)
Flowers in profusion 〈Summer〉
Sugioka Hiromi, Katayama Ken, Ishikura Shosei, Sawada Koei, Tazawa Ryo, Takagi Suisen, Takenouchi Shoki, Sasaki Koyo
Ikka-Sanbo(One kind of material in three distinctive variations)11:Leather flower : Hinata Yoichi
To the Cities of the World 32 : Margot Perez in Manila
What's in an ikebana work? (Sofu's Lecture Note) 26:"Moments"
Teacher's Workshop Thema : Intertwining Plant Materials
Life with Flowers (Artist Profile): Inoue Saho
Kiri's Scope 28
Kiri Teshigahara Interview with Prominent People : Ando Hiromi and Kume Yumi (Viastique)
How to order
You can place an order or apply for a subscription at the Sogetsu Shuppan counter or through a certified Sogetsu teacher.
This magazine is also available at the Sogetsu Shuppan section in Shop Flora on the 4th floor of the Sogetsu Kaikan.
For information on mail-order, please refer to "Purchase via Mail-Order" in the Shop page.
Sogetsu Shuppan
FAX:03-5770-5607
E-mail:shuppan@sogetsu.or.jp
Subscribe to the Sogetsu Magazine
Sogetsu Quarterly Magazines(4 issues a year):9,148 Yen
(the shipping charge inc. & accepted Air only)
It usually starts from 2021 Summer to 2022 Spring.
However we accept to change that.
Please feel free to contact us.