Sogetsu Magazine 2023 Spring is on Sale!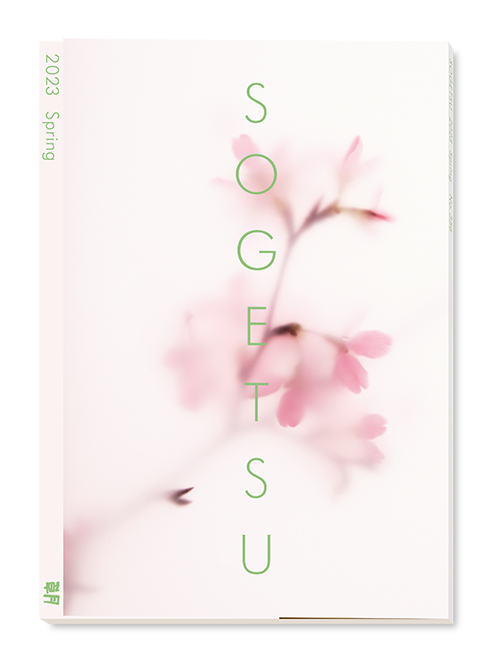 Keeping an open and agile mind
Price:1,437 Yen
Softcover:88 pages
Language:Japanese and English
Dimensions:(W/H)210㎜/297㎜
Date of Issue:Mar/3/2023
Item No.:A5133
Iemoto Interview My style 33 Guest: Mr Hamana Kazunori
Mr. Kazunori Hamana, a ceramic artist, held his solo exhibition at the stone garden in the Sogetsu Kaikan last summer. The Iemoto visited his kiln which was surrounded by abundant nature and arranged flowers in his works. They talked about how to create their own world in their works.
The 103rd Sogetsu Annual Exhibition
The Sogetsu Exhibition was held at the Nihombashi Takashimaya S.C. last autumn under the theme of 'What is SOGETSU?'. This theme asked exhibi-tors to find their own answers in order to be more lively and more crea-tive as ikebanists. Each exhibitor embodied their answers in flowers in their own works. Enjoy photos of wonderful works by Iemoto and master in-structors.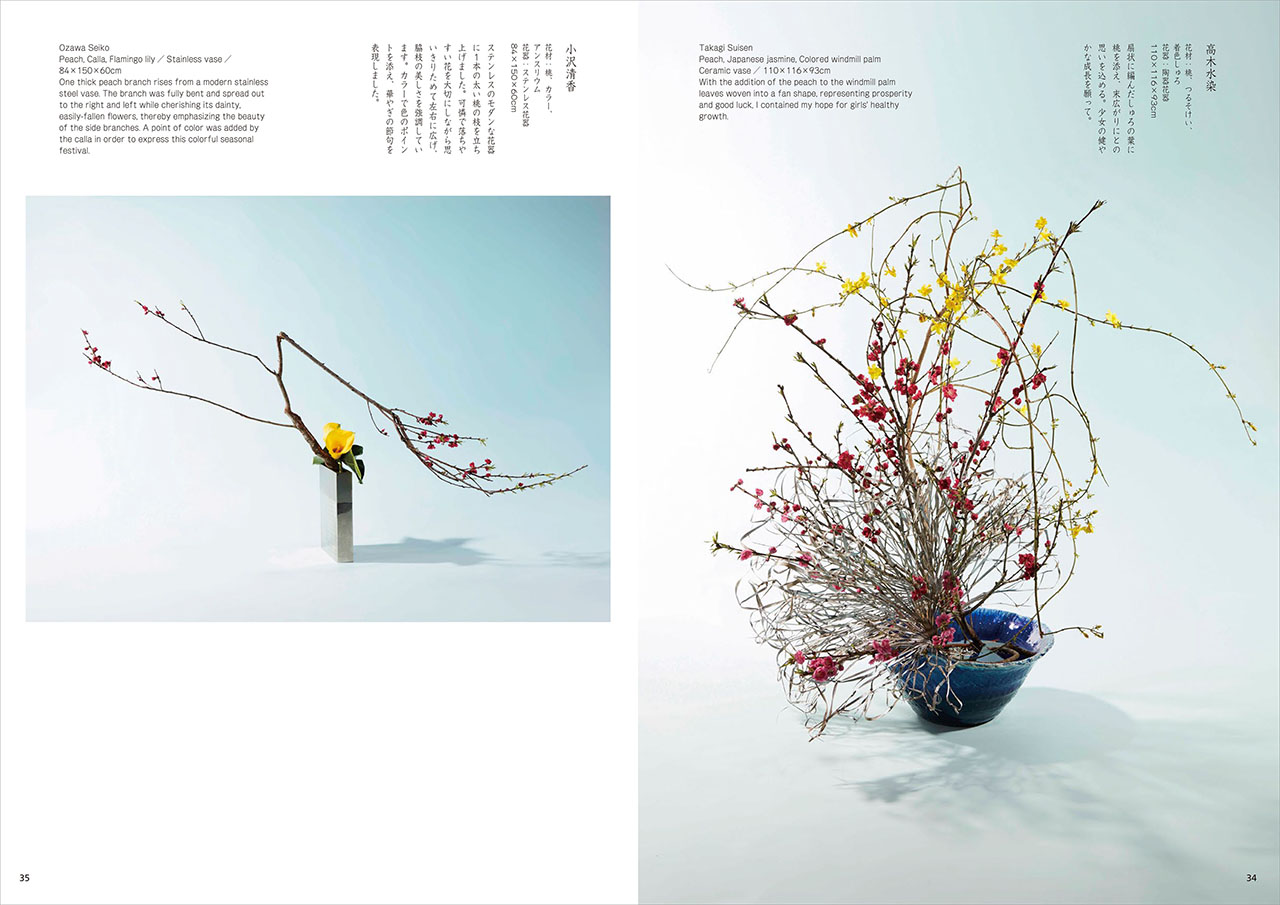 Talking of thatched roofs, we imagine pastoral landscapes. Kusakanmuri', the unit of craftsmen which produces original styles of thatch, has been challenging for the innovation on such a traditional image of thatch which harmonizes with pastoral landscapes. Iemoto's works arranged in their original thatched stands will catch your eye.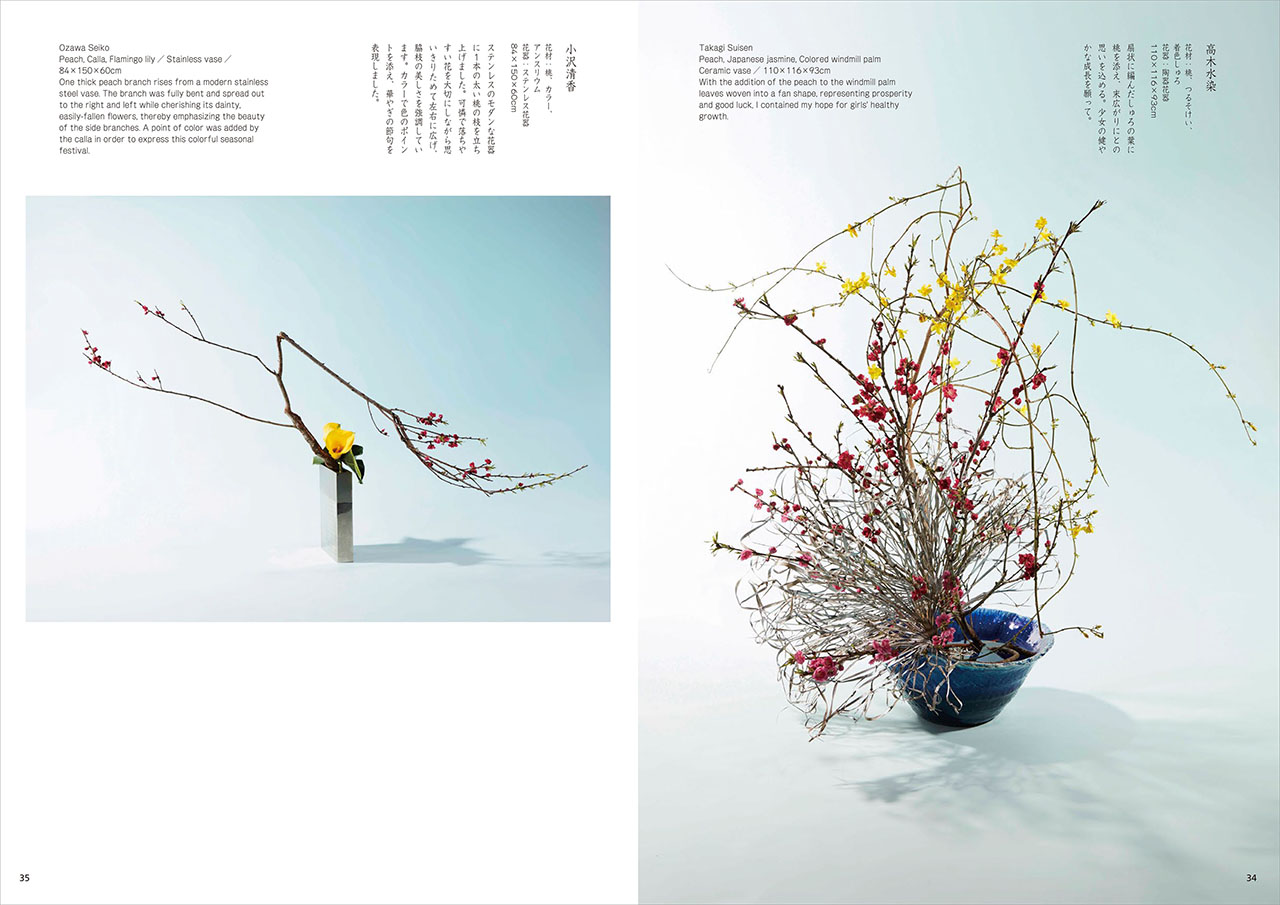 The Peach is a flowering tree that is indispensable for Hinamatsuri, also known as the Japanese Doll Festival or Girl's Day, and celebrated on March 3. Lovely, Plump flowers, liner, sturdy branches—Seven artists took advantage of these characteristics of the peach to create an original look and feel in their ikebana.Lovely works in which the second Iemoto Kasumi arranged the peach blossoms and created a light and gentle atmosphere will charm you.
Teshigahara Akane Her Words and Works
Escaping from our Fixed image
lemoto Interview My Style 33 Guest:Hamana Kazunori(ceramic artist)
The Thatch
Arranging Peach Blossoms: Nakada Kazuko, Takagi Suisen, Ozawa Seiko, Kikuta Teika, Iwabuchi Koka, Ishikura Shosei, Mori Sairin
Flowers in profusion [Spring]: Nakamura Sozan, Isono Gaho, Enomoto Koshu, Sugioka Hiromi, Tan-no Kaen, Kuboshima Iccho, Sasaki Koyo, Tabuchi Shoryu
Kasumi Teshigahara and Peach
Artist Interview with Teshigahara Kiri Guest: Mr Sato Taku (graphic designer)
To the Cities of the World 35 : Joanne Caccavale in Massachusetts
Celebrating the Sogetsu Massachusetts Branch 50th Anniversary
Ikka-Sanbo(One kind of material in three distinctive variations)13:Blackboy : Sawada Koei
What's in an ikebana work? (Sofu's Lecture Note) 29:"All about vases"
Teacher's Workshop Theme: Arranging in a Blue Vase
How to order
You can place an order or apply for a subscription at the Shop counter on the 4th floor of the Sogetsu Kaikan or through a certified Sogetsu teacher.
This magazine is also available at the Shop on the 4th floor of the Sogetsu Kaikan.
For information on mail-order, please use the order form.
You can also purchase online here.
Shop 
FAX:03-5770-5607
E-mail:shuppan@sogetsu.or.jp