Sogetsu Magazine 2023 Autumn is on Sale!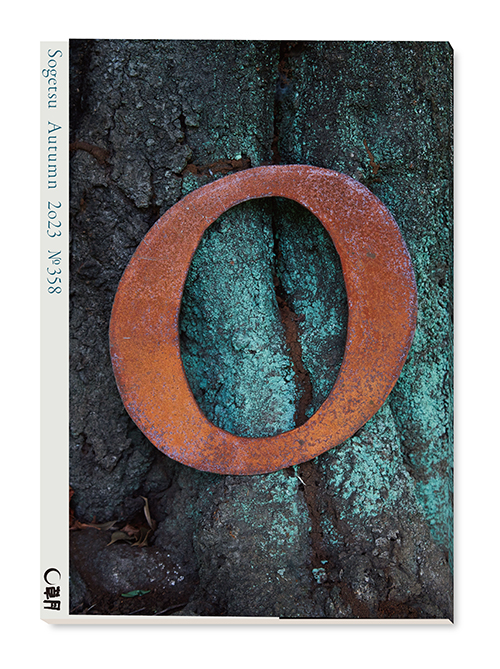 Always holding the key to the door through which there is a creative world
Price:1,980 Yen
Softcover:88pages
Language:Japanese and English
Dimensions:(W/H)210㎜/297㎜)
Date of Issue:Sep/1/2023
Item No.:A5141
Iemoto Interview My style 34 Guest: Mr Nakajima Shunta
Mr Nakajima Shunta is a designer of the fashion brand, ALMOSTBLACK, which re-leased the first collections to be themed on Iemoto Sofu. Mr Nakajima and Iemoto Akane talked about their own pursuit of creativity and thoughts on Sofu.
You can also enjoy the pages on which the members of 'Za Sogetsu' appear wearing clothes of ALMOSTBLACK.
[Feature article]Indigo and Ikebana
Two exhibitions was held at the Sogetsu Kaikan at the same time in May―the joint exhibition 'Stone Garden: Indigo and Flowers' by the Demura Tangasou Group was with 'BUAISOU', an atelier of indigo dye called Aizome, both of which have their bases in Tokushima prefecture and the special exhibition 'Indigo and Akane' by BUAISOU and Iemoto. The venue was thoroughly colored in indigo blue for the whole five days.
[Feature article]Arranging Colored Materials
Colored materials have a different look from their natural state. The appearance changes depending on the type of paint, its color, and the way it has been applied, which offers endless variations. Seven artists skillfully brought out the beauty of colored materials in their works.
Teshigahara Akane Her Words and Works
Flowers.It was a joy.
lemoto Interview My Style 34 Guest:Nakajima Shunta(fashion designer)
Harmony of Flowers and Vessels 2023
[Feature article]Indigo and Ikebana
Indigo and Akane BUAISOU×Akane
Stone garden Indigo and flowers Demura Group and BUAISOU
Making of the Exhibition / BUAISOU
Making of the Exhibition / Tokudameiboku
'ALMOSTBLACK', worn by the members of 'ZA Sogetsu'
[Feature article]Arranging Colored Materials Nakada Kazuko, Fukushima Koka, Nakamura Misho, Eguchi Tamae, Nishiyama Kosa, Isono Gaho, Katayama Koso
Flowers in profusion [Autumn] Katayama Ken, Tazawa Ryo, Akiyama Miharu, Tabuchi Shoryu, Sawada Koei, Sekita Ikuen, Sumura Eikou, Takenaka Reiko
Artist Interview with Teshigahara Kiri : Jadé Fadojutimi
Ikka-Sanbo(One kind of material in three distinctive variations)15:Japanese bittersweet Takagi Suisen
To the Cities of the Japanese bittersweetJapanese bittersweetWorld 36 : Lee Ching Ling Yueh in Taiwan
What's in an ikebana work? (Sofu's Lecture Note) 31:'Ikebana in harmony with the world'
Teacher's Workshop Thema : Combining dried and fresh materials
How to order
You can place an order or apply for a subscription at the Shop counter on the 4th floor of the Sogetsu Kaikan or through a certified Sogetsu teacher.
This magazine is also available at the Shop on the 4th floor of the Sogetsu Kaikan.
For information on mail-order, please use the order form.
You can also purchase online here.