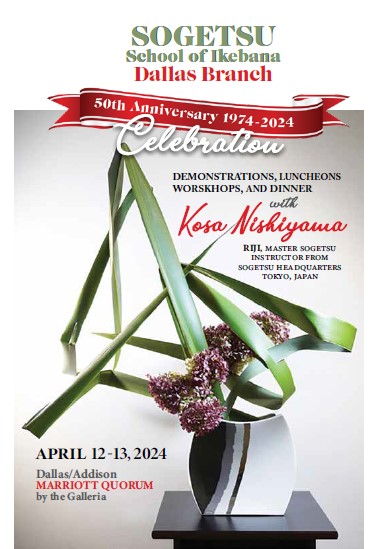 Save the date for 50th Anniversary events in April 2024/ Sogetsu Dallas Branch
Sogetsu Dallas Branch (USA)
Marriott Quorum in Dallas/Addison, Texas, USA
11 Apr 2024 [thu] - 13 Apr 2024 [Sat]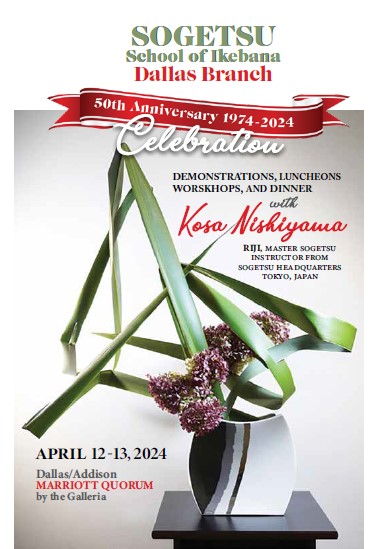 Kosa Nishiyama will hold the special demonstration and the workshops
Sogetsu Dallas Branch  is pleased to announce its 50th-anniversary celebration event.
We invite Kosa Nishiyama, Master instructor of the Sogetsu Headquarters, from Tokyo for this occasion.
Kosa sensei whose ikebana works  combine elegance and solid technical expertise will showcase her artistry in the demonstration.
In workshops, her accurate critique and pieces of advice will help you to develop your skill and expand your horizon furthermore.
Why not join us in this special occasion? Please visit the Sogetsu Dallas Branch website for more information and registration.
https://www.sogetsudallas.org/
Day 1: Thursday, April 11
Welcome Dinner – 6:00 pm to 8:00pm
Day 2: Friday, April 12
Workshop
1 – 9:00 am to 12 pm
Theme: Book 3-4 Two or more containers
2 – 1:00 pm to 3:30 pm
Theme: Book 4-11 Using both fresh and unconventional materials
Day 3: Saturday, April 13
Workshop
3 – 9:00 am to 12 pm
Theme: Book 4-13 Dried, bleached, or colored materials
Celebration Demonstration/Dinner
5:00 pm to 10:00 pm
Date

11 Apr 2024 [thu] - 13 Apr 2024 [Sat]
Contact

Sue Smith - Dallas Branch Director
sue.c.smith@sbcglobal.net
Amira Matsuda - Event chair
amira.matsuda@yahoo.com