Sogetsu Magazine 2022 Autumn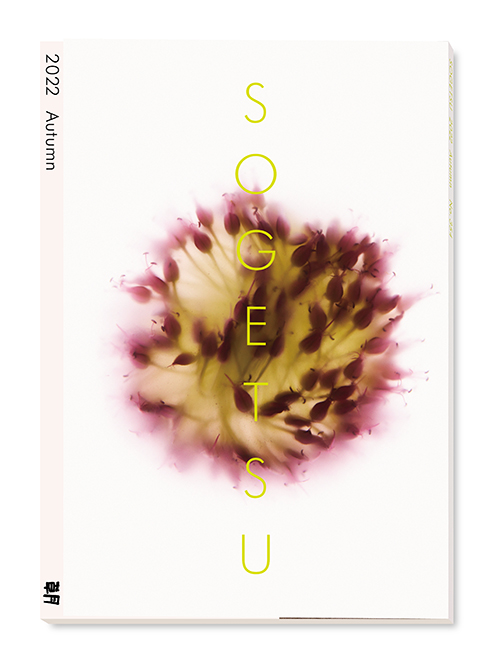 genuine experience, genuine empathy
Price:1,437 Yen
Softcover:88 pages
Language:Japanese and English
Dimensions:(W/H)210㎜/297㎜
Date of Issue:Sep/1/2022
Item No.:A5131
Iemoto Interview My style 31 Guest: Mr Kakinuma Koji
Mr Kakinuma Koji, who was invited as a guest instructor in Sogetsu summer seminar in 2019, is a calligrapher and a modern artist. At the beginning of the interview Iemoto arranged flowers for his two works. They talked about this collaboration and how to create their own world in their works.
Line, color, and mass are the three main elements of ikebana.Among these, Sogetsu places the most value on the lines that you create.My particular lines are for creating more attractive arrangements.Iemoto Akane and eight ikebanists arranged some works with My Line as a theme.
Sogetsu Ikebana Exhibition 'Flower Prelude' as seen through sketches
Participants in Sogetsu exhibitions draw sketches, which are taken to be blueprints of their works, before starting arranging the flowers. When drawing sketches, various tools such as coloured pencils, watercolours and computer graphics are used. It is interesting that each sketch seems to reflect each participant's personality.This time some photos of their sketches, which you do not usually have a chance to see, appear in this article as well as their works based on them.
Teshigahara Akane Her Words and Works
Films and lkebana
lemoto Interview My Style 31 Guest:Kakinuma Koji(calligrapher,modern artist)
【feature article】 My Line
Teshigahara Akane "My Line"
Theme:What is a line in ikebana?
'My line' by 8 Ikebanists
Isono Gaho, Ozawa Seiko, Takenaka Reiko, Katayama Ken, Kawana Tetsunori, Fukushima Koka, Sawada Koei, Kato Kumiko
Shinoda Toko's Line
Exhibition report 'Common Ground'
Flowers in profusion 〈Autumn〉
Tazawa Ryo, Ishikura Shosei, Sekita Ikuen, Nakada Kazuko, Nishiyama Kosa, Kikuta Teika, Tan-no Kaen, Okamoto Seishu
Various approaches to Ikebana Vol.9
Ikka-Sanbo(One kind of material in three distinctive variations)12:Japanese beauty-berry : Sumura Eikou
To the Cities of the World 33 : Mihori Soei in Florida
What's in an ikebana work? (Sofu's Lecture Note) 27:"Lines are important"
Teacher's Workshop Theme: Chrysanthemums and Others
Life with Flowers (Artist Profile): Shirasaki Shuhan
Kiri's Scope 29
Kiri Teshigahara Interview with Prominent People: Toriba Nobuhiro(Representative Director of TORIBA COFFEE)
How to order
You can place an order or apply for a subscription at the Shop Flora counter on the 4th floor of the Sogetsu Kaikan or through a certified Sogetsu teacher.
This magazine is also available at the Shop Flora on the 4th floor of the Sogetsu Kaikan.
For information on mail-order, please use the order form.
Shop Flora
FAX:03-5770-5607
E-mail:shuppan@sogetsu.or.jp
Subscribe to the Sogetsu Magazine
Sogetsu Quarterly Magazines(4 issues a year):9,148 Yen
(the shipping charge inc. & accepted Air only)
It usually starts from 2021 Summer to 2022 Spring.
However we accept to change that.
Please feel free to contact us.