【WEB IEMOTO SEMINARS】Iemoto's video message to STA members is now available!
STA WEB IEMOTO SEMINARS
STA Members' Site
11 Oct 2021 [mon] - 11 Dec 2021 [Sat]
The WEB IEMOTO SEMINAR started in 2020. Since then, three streaming videos have showcased the exquisite artistry and technique of Iemoto and the Master Instructors of the Sogetsu HQ.
This Autumn, we will release the "Iemoto Only" streaming video to commemorate her 20th anniversary of the succession. Don't miss this memorial program and enjoy her exciting and meticulous demonstration to your heart's content.
Please stay tuned!
Message from the Iemoto Akane Teshigahara (English)
Iemoto Special Demonstration to mark the 20th Anniversary of the Succession "Bouquet of Memories"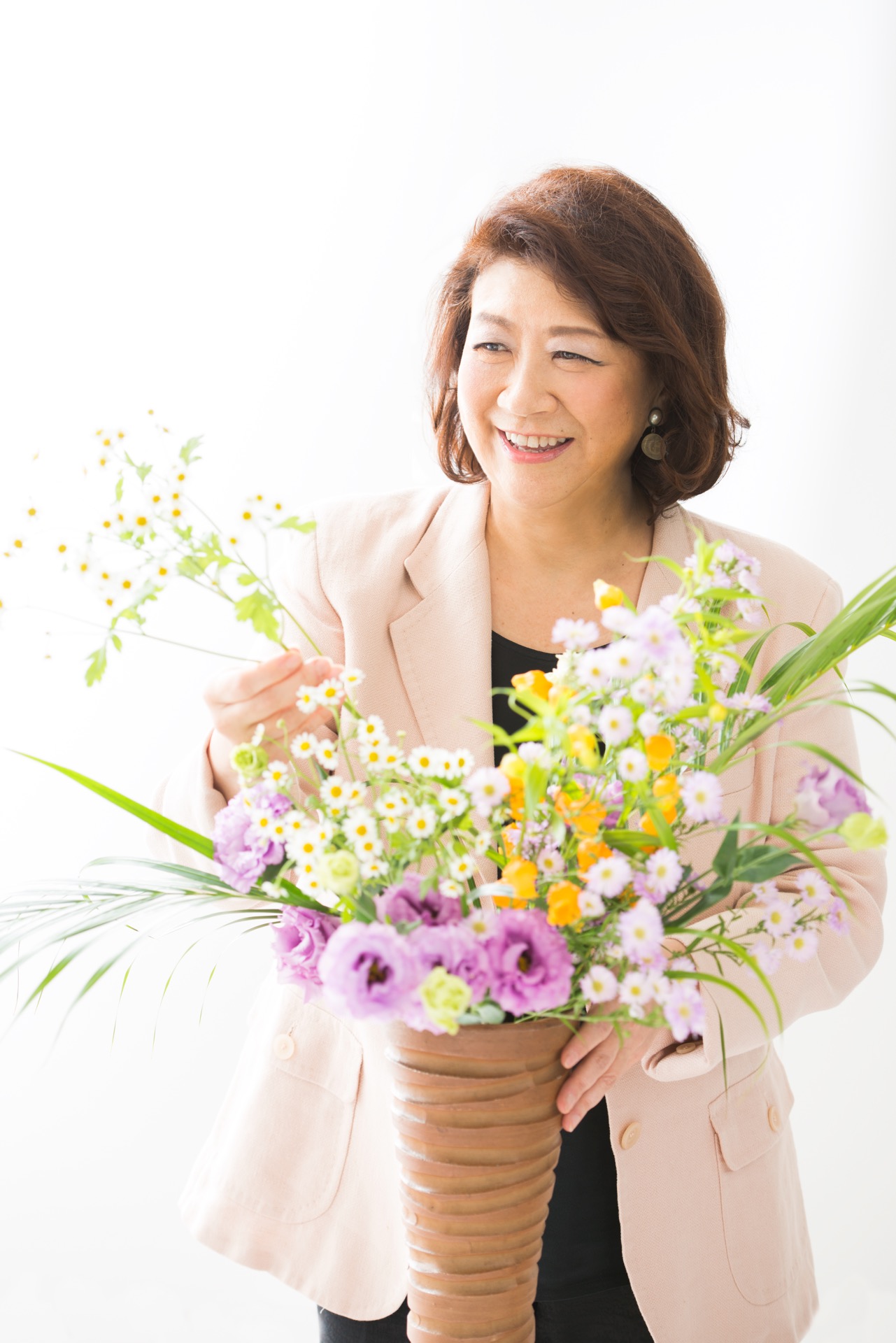 Looking back at her journey from the days working in the PR of the Sogetsu Foundation through to becoming the Vice President, and then finally succeeding as Iemoto — Iemoto Akane will talk about memorable moments and recall anecdotes from through these years.
She presents nine gorgeous pieces of work related to these past episodes during her demonstration.
It's a demonstration spun by memories.
Mitsubishi Motors Showroom (in Shizuoka, Japan)
The 4th North American Sogetsu Seminar (in Toronto, Canada)
Ikebana International 10th British Symposium (in Derbyshire, U.K.)
The ceremony for the Iemoto succession (in Sogetsu Hall, Tokyo)
Japan Fashion Fair in Shanghai (China)
"Red flowers," a TV Commercial of Hitachi,Ltd.
80th Anniversary Commemoration Festival/Solo Exhibition "Ikebana Through My Eyes" (Nihombashi Takashimaya Department Store)
G8 Hokkaido Toyako Summit (in Hokkaido, Japan)
Iemoto Ikebana Live in Kagoshima (in Kagoshima, Japan)
The 8th North American Sogetsu Seminar (in Florida, U.S.A.)
Joint Celebration of Ikebana International Hong Kong Chapter 24 50th Anniversary & Hong Kong Branch of Sogetsu Teachers' Association 40th Anniversary
50 Golden Years of Sogetsu in Australia and New Zealand (in Sydney, Australia)
Solo Exhibition "Heartlines" to Celebrate the 10th Anniversary of Being Iemoto (in Spiral Garden, Tokyo)
Golden Anniversary Celebrations of Sogetsu School of Ikebana in India (in New Delhi, India)
Ghent Floralies 2016 (in Ghent, Belgium)
Singapore Sogetsu 50 Golden Years: A Journey of 50 Years with Flowers
Streaming period
[English subtitles version available]October 11 (Mon.) – December 11 (Sat.) (subject to chage)
*You can watch any video(s) purchased as many times as you like during the streaming period.
Please be ready by October 11!
❶ Join the Sogetsu Teachers Association (STA)
If you are not yet a member, please contact the Services for Membership Department.
members@sogetsu.or.jp
❷ Log in the STA Members' Site
You can enter the streaming service site  through the STA Members' Site.
If you have not yet accessed the Members' Site, this is a great opportunity for you to access it and log in.
*In order to log in, you need your  STA number and password. If you are nots sure about the password, please recreate new password by clicking "Forgot password?" . You will receive the e-mail which includes the link to create a new password.
*After creating a new password, try again from "Log-in " of the STA Members' site.
*Whole payment is done on the streaming service site. No need to apply nor pay in advance by paper-based " application form" nor "payment Form.
Once the video is available:
Log-in the Sogetsu Teachers Association (STA) Members' Site. Please see the "News" section.
(Streaming will begin on October 11. Please note that the videos cannot be viewed before that.)
Click on the URL for the streaming site to move there.
Register as a member on the streaming site(first time only.)
Please note: the login information for the streaming site is different from that of the STA members' site. It's like you need to Log in secondly.
Select the Iemoto video posted on the streaming site.
Enter your payment (credit card) information.
Complete payment and click the video you chosen.
Now, enjoy the iemoto demonstration!
Date

11 Oct 2021 [mon] - 11 Dec 2021 [Sat]