【Exhibition】Christmas Celebration
Sofia Study Group, Bulgaria
Dom na kinoto
08 Dec 2018 [Sat] - 10 Dec 2018 [mon]
"Dom na kinoto "-Christmas Celebration in Sofia, Bulgaria
The topic of our second Ikebana Exhibition was Christmas celebration.
During 3 days, about a thousand visitors enjoyed the twenty Ikebana compositions created
by our members. We used roots, different branches of trees, pines, bamboo and typical
flowers for the season and leaves.
During the exhibition there were four Ikebana demonstrations which showed to the audience
process of ikebana creation more deeply.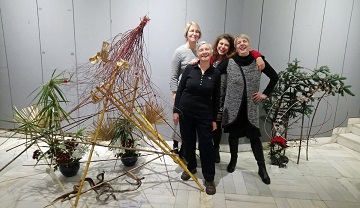 Date

08 Dec 2018 [Sat] - 10 Dec 2018 [mon]