Power from Flowers [Teshigahara Akane and leading Sogetsu artists]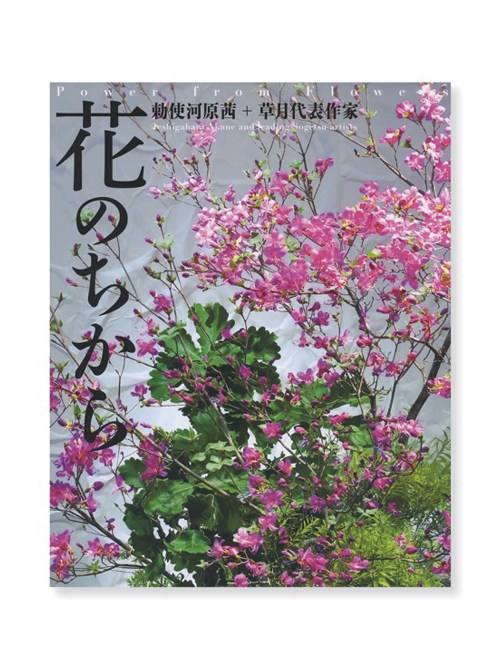 Price:3,500Yen|
Iemoto Akane Teshigahara 10th Year Celebration, Part 2 !
Price:JPY3,500
Softcover:120pages
Language:Japanese and English
Dimensions:(W/H)215mm/270mm
Shipping Weight:600g
Publisher:Sogetsu Bunkajigyo Co.,ltd.
Date of Issue:Aug/2011
Item No.:D3070
Power from Flowers, book of Ikebana works, showcases the works at "Iemoto Akane Teshigahara 10th Year Solo Exhibition: Heartlines" that was held in May 2011 at Spiral Building in Aoyama, Tokyo.
Enjoy the bamboo installation and Iemoto's works created in her own handmade vases.
Also introduced in this book are works from "Past Iemoto's Influence" exhibition that was held at the same time at Sogetsu HQ Building. They are the culmination of the challenge undertaken by leading Sogetsu Ikebana artists to create works in the ceramic, stone and glass vases made by the late Teshigahara Hiroshi.
Feel the message from the flowers.
How to order
You can place an order at the Sogetsu Shuppan counter or through a certified Sogetsu teacher.
This book is also available at the Sogetsu Shuppan section in Shop Flora on the 4th floor of the Sogetsu Kaikan.
For information on mail-order, please refer to "Purchase via Mail-Order" in the Shop page.
Sogetsu Shuppan
TEL (Toll-free number):0120-087-202
FAX:03-5770-5607
E-mail:shuppan@sogetsu.or.jp