Sogetsu Magazine 2021 Spring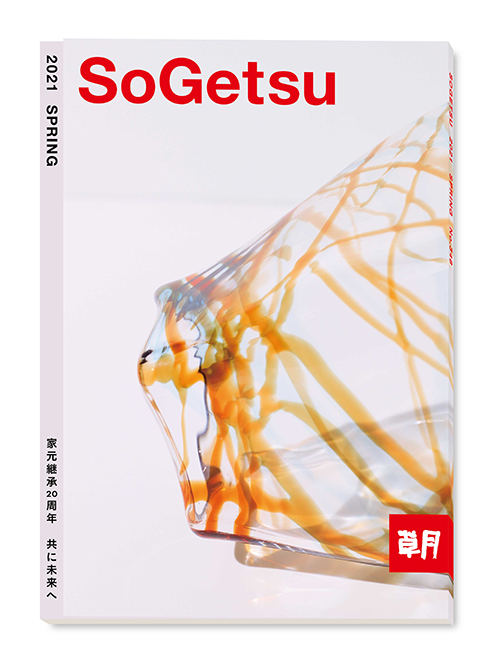 Price:1,437Yen
Price:1,437 Yen
Softcover:88 pages
Language:Japanese and English
Dimensions:(W/H)210㎜/297㎜
Date of Issue:Mar/1/2021
Item No.:A5113
Introduction of highlights by Iemoto
Iemoto Interview "My Style"
Guest: Mr Ken Teshigahara
Mr Ken Teshigahara, Iemoto's second son talks about his resolution
to become the next Iemoto. His personality is also revealed through the interview.
Enjoy the memories between the Iemoto and him which are unique to a parent-child relationship as well!
The Power of a Single Flower
We focus on the huge gloriosa installation by the present Iemoto, made with donations through crowdfunding in order to encourage the flower business.
Now is the time to believe in the power of a single flower.
"Wabara" is Japan's world-class rose variety produced at Rose Farm Keiji in Shiga Prefecture. Its graceful and delicate beauty has attracted people all over the world.
Enjoy Fantastic works by seven Ikebanists who are charmed by wabara.
The 26th article of the series "To the Cities of the World," Hilda Tagusagawa in São Paulo.
How to order
You can place an order or apply for a subscription at the Shop Flora counter on the 4th floor of the Sogetsu Kaikan or through a certified Sogetsu teacher.
This magazine is also available at the Shop Flora on the 4th floor of the Sogetsu Kaikan.
For information on mail-order, please use the order form.
Shop Flora
FAX:03-5770-5607
E-mail:shuppan@sogetsu.or.jp
Subscribe to the Sogetsu Magazine
Sogetsu Quarterly Magazines(4 issues a year):9,148 Yen
(the shipping charge inc. & accepted Air only)
It usually starts from 2021 Summer to 2022 Spring.
However we accept to change that.
Please feel free to contact us.