Sogetsu Magazine 2022 Spring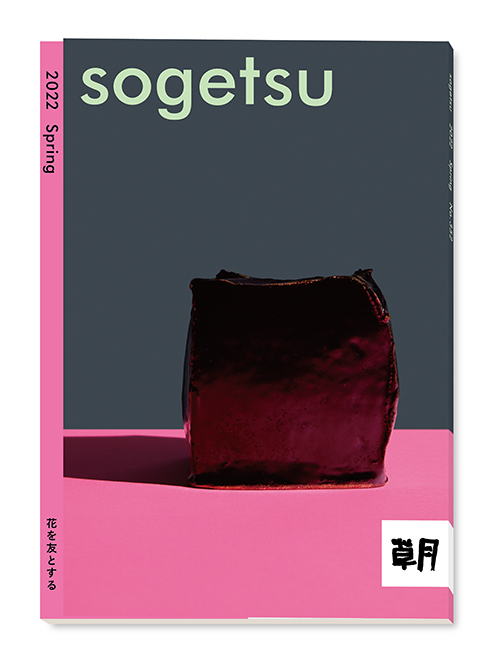 Price:1,437Yen|
Be a good friend of flowers.
Price:1,437 Yen
Softcover:88 pages
Language:Japanese and English
Dimensions:(W/H)210㎜/297㎜
Date of Issue:Mar/1/2022
Item No.:A5123
"RELEASE" ~ Akane Teshigahara Solo Exhibition for 20th Anniversary
Iemoto Akane's solo exhibition "Release" was held at the Sogetsu Kaikan annex Atelier in November last year in commemoration of the 20th anniversary of her succession as Iemoto. Eleven works, ranging from large to small, were shown. The space was totally transformed from the usual where bamboo and steel materials are piled up, and became a grand spectacle which overwhelmed the viewers. All the photos of it must be overwhelming for you too.
The 102nd Sogetsu Annual Exhibition to Celebrate Iemoto's 20th Anniversary "Flowers and Me"
The Sogetsu Annual Exhibition was held for the first time in two years since its cancellation last year because of the COVID-19 pandemic. A total of 430 works over the nine periods were made expressing hope for the year 2022. Each ikebanist expressed their delight in flowers in their own work.
Ikka-Sanbo:Dancinglady orchid
One kind of material in three distinctive variations. The bright yellow dancinglady orchid is a plant that conveys a sense of splendor even from a distance due to its coloration, creating a vibe of nobiliry and grace. This time. Mascer Instructor Nakamura Sozan transformed the dancinglady orchid into three different variations.
Teshigahara Akane Her Words and Works
Make flowers our companions
20th Anniversary Akane Teshigahara Solo Exhibition"RELEASE"
Teshigahara Akane on the 20th anniversary of her succession as Iemoto :"Dynamic, vibrant works in her solo exhibition"and"Arranging flowers vs. Creating forms"
SOGETSU Annual Exhibition Flowers and Me
The Flowers and Me Award/Master Instructors'works and 10 works selected by Iemoto
Sogetsu Annual Exhibition Freshmen Award
Flowers in profusion
Katayama Ken, Iwabuchi Koka, Oizumi Reito, Tan-no Kaen, Tazawa Ryo, Isono Gaho, Iketani Gaho, Akiyama Miharu
Exhibition report
<Kiri Teshigahara Special Interview> Yokoo Tadanori
Ikka-Sanbo(One kind of material in three distinctive variations)⑩:Dancinglady orchid : Nakamura Sozan
To the Cities of the World 31 : Hiroko Prado in New South Wales
What's in an ikebana work? (Sofu's Lecture Note) 25:"Lovely Spring Flowers"
Teacher's Workshop Thema : Composition Expressing a Movement
Life with Flowers (Artist Profile): Demura Tangaso
How to order
You can place an order or apply for a subscription at the Shop Flora counter on the 4th floor of the Sogetsu Kaikan or through a certified Sogetsu teacher.
This magazine is also available at the Shop Flora on the 4th floor of the Sogetsu Kaikan.
For information on mail-order, please use the order form.
Shop Flora
FAX:03-5770-5607
E-mail:shuppan@sogetsu.or.jp