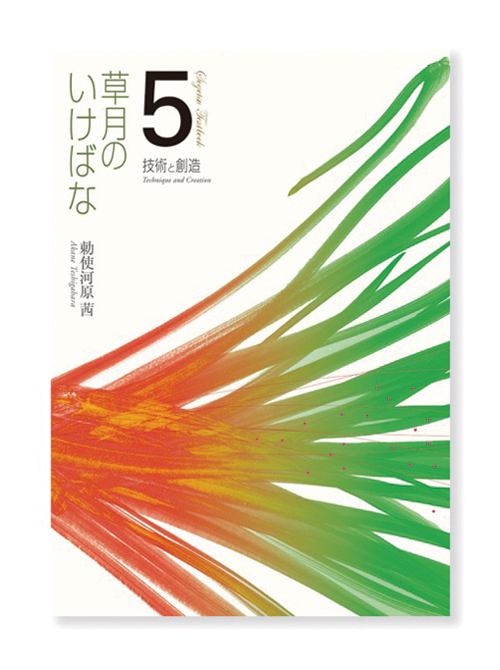 Price:2,000Yen|
5. Technique, Materials

Supervision:Akane Teshigahara
Price:JPY2,000
Softcover:128 pages
Language:Japanese and English
Dimensions:(W/H)182㎜/257㎜
Shipping Weight:360g
Publisher:Sogetsu Bunkajigyo Co.,ltd.
Date of Issue:Jun/2017
Item No.:C1310
This textbook is for those aiming to acquire the qualification of a Teachers' Diploma Fourth Grade. You can increase the power of your skill, knowledge and creativity after studying the textbook5 curriculum based on the four keywords Technique, Material, Placement and Creation. Those who already have the Teachers' Diploma Fourth Grade, and practice using this bookT5 will get a new stimulus for internalising the skills and knowledge to be acquired as a Sogetsu practitioner.
How to Study Sogetsu Ikebana
The standard Sogetsu Textbooks, which consist of "Sogetsu Textbook 1・2" , "Sogetsu Textbook 3・4" and "Sogetsu Textbook 5" are used in the lessons. They cover all the necessary basics for beginners to enjoy acquiring skills through actual interaction with flowers, deepen their understanding of the plant materials, and eventually master a high level of self-expression through flowers.
Curriculum 5: Technique and Creation
30 Lessons in about 10 months.
After completing all the studies of the four curricula, lessons continue for acquisition of a Teacher's Diploma (to be officially certified as Sogetsu teacher). At this stage, the curriculum composed of the four key words "Technique," "Materials," "Placement," and "Creation" learned to get a more confident foundation of skills, knowledge, and greater creativity. At the same time, training is required to gain mental preparedness as a teacher. Upon completion of Curriculum 5, application can be made for Teacher's Diploma Fourth Grade (the first stage of teacher's diploma), a Hand-carved Kanban/Name board, and Hand-carved Sekisatsu/Nameplate.
How to order
You can place an order at the Sogetsu Shuppan counter or through a certified Sogetsu teacher.
This textbook is also available at the Sogetsu Shuppan section in Shop Flora on the 4th floor of the Sogetsu Kaikan.
For information on mail-order, please refer to "Purchase via Mail-Order" in the Shop page.
Sogetsu Shuppan
TEL (Toll-free number):0120-087-202
FAX:03-5770-5607
E-mail:shuppan@sogetsu.or.jp