Encyclopedia of Plant Materials for Ikebana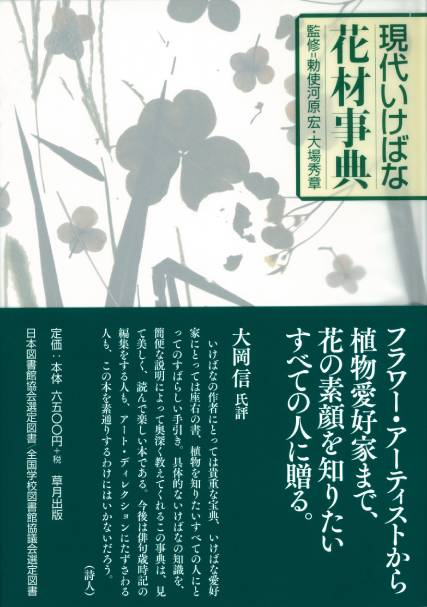 Price:6,500Yen|
Japanese version
Price:JPY6,500
Hardcover:853 pages
Language:Japanese
Dimensions:(W/H)153mm/215mm
Shipping Weight:1,200g
Publisher:Sogetsu Bunkajigyo Co.,ltd.
Item No.:C4064
ISBN4-88145-002-6
*Price has been changed since October 1st, 2019.
Features of this Encyclopedia
Carefully written, detailed and easy to understand explanation
Many examples, colored photographs of plants
Easy-to-read layout on Mizuage (methods of encouraging water absorption), distribution and availability, place of origin, etc.
Distinctive Ikebana names, including distribution names used by florists, included.
Happy episodes, including the etymology of botanical names, provided Entertaining book.
Official botanical names, scientific names and names in English provided
How to order
You can place an order at the Sogetsu Shuppan counter or through a certified Sogetsu teacher.
This book is also available at the Sogetsu Shuppan section in Shop Flora on the 4th floor of the Sogetsu Kaikan.
For information on mail-order, please refer to "Purchase via Mail-Order" in the Shop page.
Sogetsu Shuppan
TEL (Toll-free number):0120-087-202
FAX:03-5770-5607
E-mail:shuppan@sogetsu.or.jp