The Fifty Principles of Sogetsu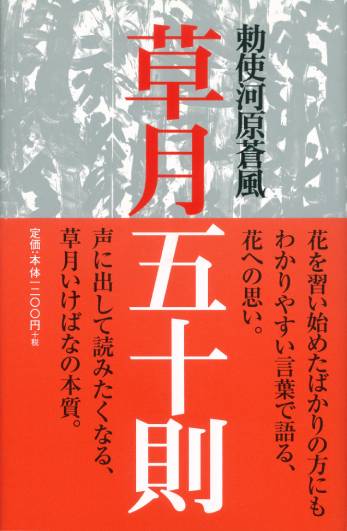 Price:1,200Yen| 
Japanese version
Price:JPY1,200
Hardcover:128 pages
Language:Japanese
Dimensions:(W/H)124㎜/188㎜
Shipping Weight:300g
Publisher:Sogetsu Bunkajigyo Co.,ltd.
Date of Issue:Nov/2004
Item No.:C4083
*Price has been changed since October 1st, 2019.
Price : JPY1,400
Softcover : 104pages
Language : English
Dimensions : (W/H)182mm/257mm
Item No : C4093
Price : JPY1,000
Softcover : 51pages
Language : French
Dimensions : (W/H)210mm/297mm
Item No : C4091
The Principles of Sogetsu Ikebana by Teshigahara Sofu,founder of the Sogetsu School:it contains 50 principles of Sogetsu Ikebana about life and Ikebana Works.
How to order
You can place an order at the Sogetsu Shuppan counter or through a certified Sogetsu teacher.
This book is also available at the Sogetsu Shuppan section in Shop Flora on the 4th floor of the Sogetsu Kaikan.
For information on mail-order, please refer to "Purchase via Mail-Order" in the Shop page.
Sogetsu Shuppan
TEL (Toll-free number):0120-087-202
FAX:03-5770-5607
E-mail:shuppan@sogetsu.or.jp