Iemoto's solo exhibition at Sogetsu Kaikan annex Atelier extended until 7pm!
"RELEASE" ~ Akane Teshigahara Solo Exhibition for 20th Anniversary
Sogetsu Kaikan annex Atelier
12 Nov 2021 [fri] - 17 Nov 2021 [wed]
Extended until 7pm!
On November 15 (Mon.), 16 (Tue.), and 17 (Wed.), 2021, we will extend our hours until 7:00 pm to welcome you.
We hope you will take this opportunity to see the works in person.
The 20th Anniversary Akane Teshigahara Solo Exhibition "RELEASE" will be held at the Sogetsu Kaikan annex Atelier.
The stage for this exhibition will be the Sogetsu Kaikan annex Atelier, which is the heart of the Sogetsu School and the place where successive Iemotos created their works.
Please look forward to seeing how the space will be transformed by ikebana.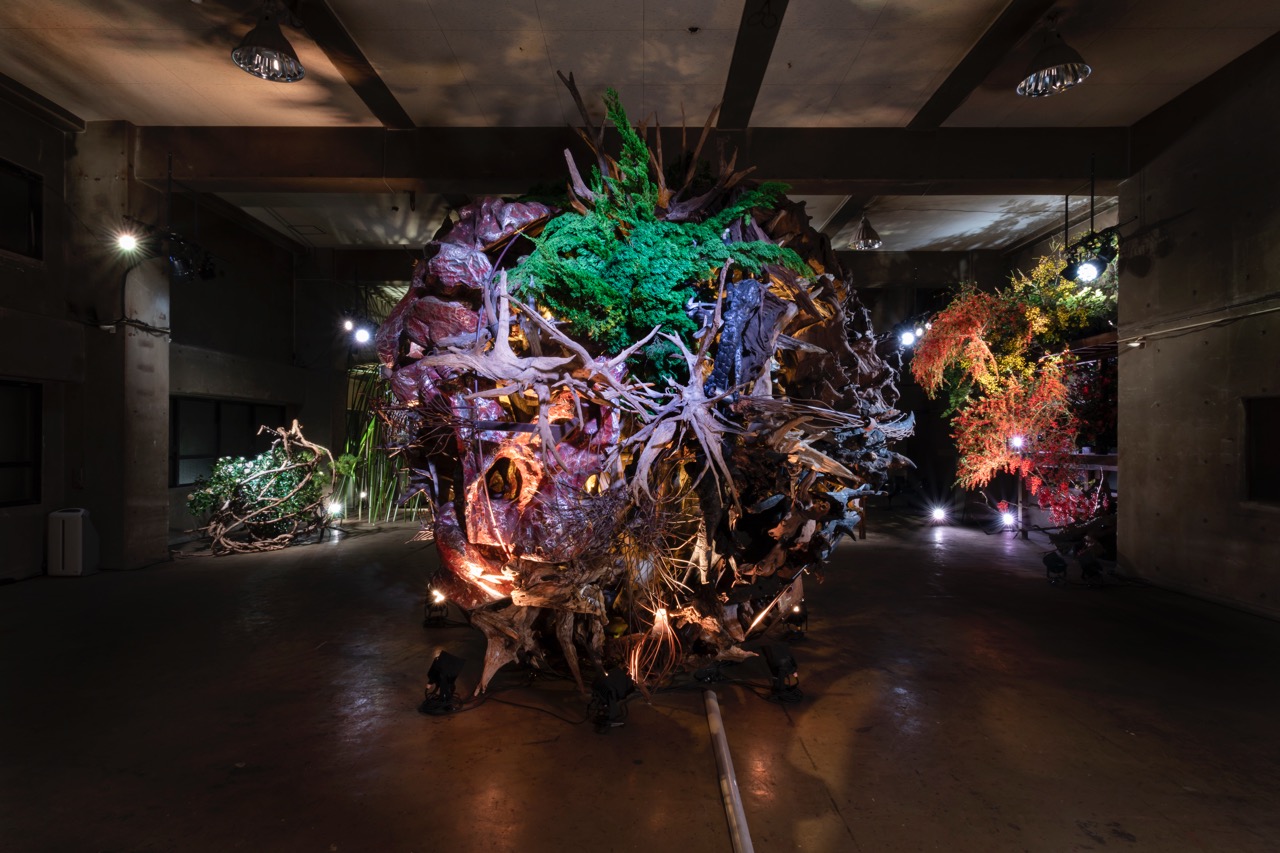 About Sogetsu Kaikan annex Atelier
The atelier is located behind the Sogetsu Kaikan. Sofu Teshigahara, the first Iemoto of Sogetsu, used to have a separate house and studio at the same location, and the current studio was completed in April 1984.
Due to the redevelopment of the surrounding area, this atelier is scheduled to be demolished within a few years.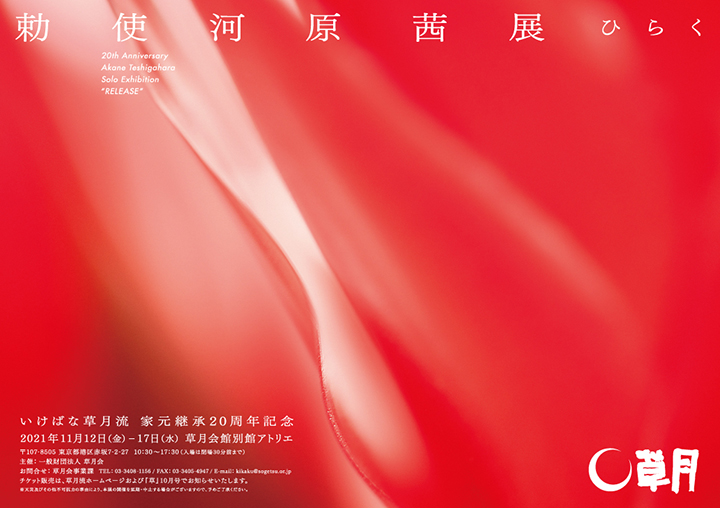 until November 17 (Wed.), 2021
Time: 10:30 – 19:00
Venue: Sogetsu Kaikan Annex Atelier (7-2-27 Akasaka, Minato-ku, Tokyo)
Entrance fee: 1,000JPY
Organizer: Sogetsu Foundation
[Managed by / For inquiries] Cultural Projects Department, Sogetsu Foundation
E-mail:kikaku@sogetsu.or.jp
*Please note that you may be asked to wait until you enter the venue depending on how crowded it is. Please come with plenty of time to spare.
*If you are not feeling well, please refrain from coming. If you are not feeling well, please refrain from visiting the museum. Please wear a mask when you visit the museum. We ask for your understanding and cooperation so that everyone can spend their time with peace of mind.
[The 102nd Sogetsu Annual Exhibition to Celebrate Iemoto's 20th Anniversary "Flowers and Me"]
[Postponed]Period: November 11 (Thu.) – December 10 (Fri.), 2021
Venue: Sogetsu Plaza (1st floor) & Lounge (2nd floor)
*9 terms, 2 days each term. The exhibition will be held intermittently, not run continuously. Please check the schedule before visiting.
>> More imformation
We will be showing videos of the exhibits.
If you are unable to come to the exhibition, please take a look.
*The videos will be posted during or after each exhibition.
*Dates and content are subject to change. The details will be posted on this website, so please check back for further information.
*Please be aware that this exhibition may be postponed or canceled due to natural disasters or other force majeure reasons.
Date

12 Nov 2021 [fri] - 17 Nov 2021 [wed]