Our Measures to be Taken to Prevent COVID-19 from Spreading
We have taken all possible measures to avoid the "Three Cs" (Closed spaces, Crowded places, and Close- proximity settings) and to prevent infection before welcoming you to the class. If you are not feeling well, please refrain from attending the class. We also ask that you please wear a mask and gargle and wash your hands when you visit. We ask for your understanding and cooperation so that everyone can spend their time with peace of mind.
Should you have any questions, please contact overseas affairs department:
overseas@sogetsu.or.jp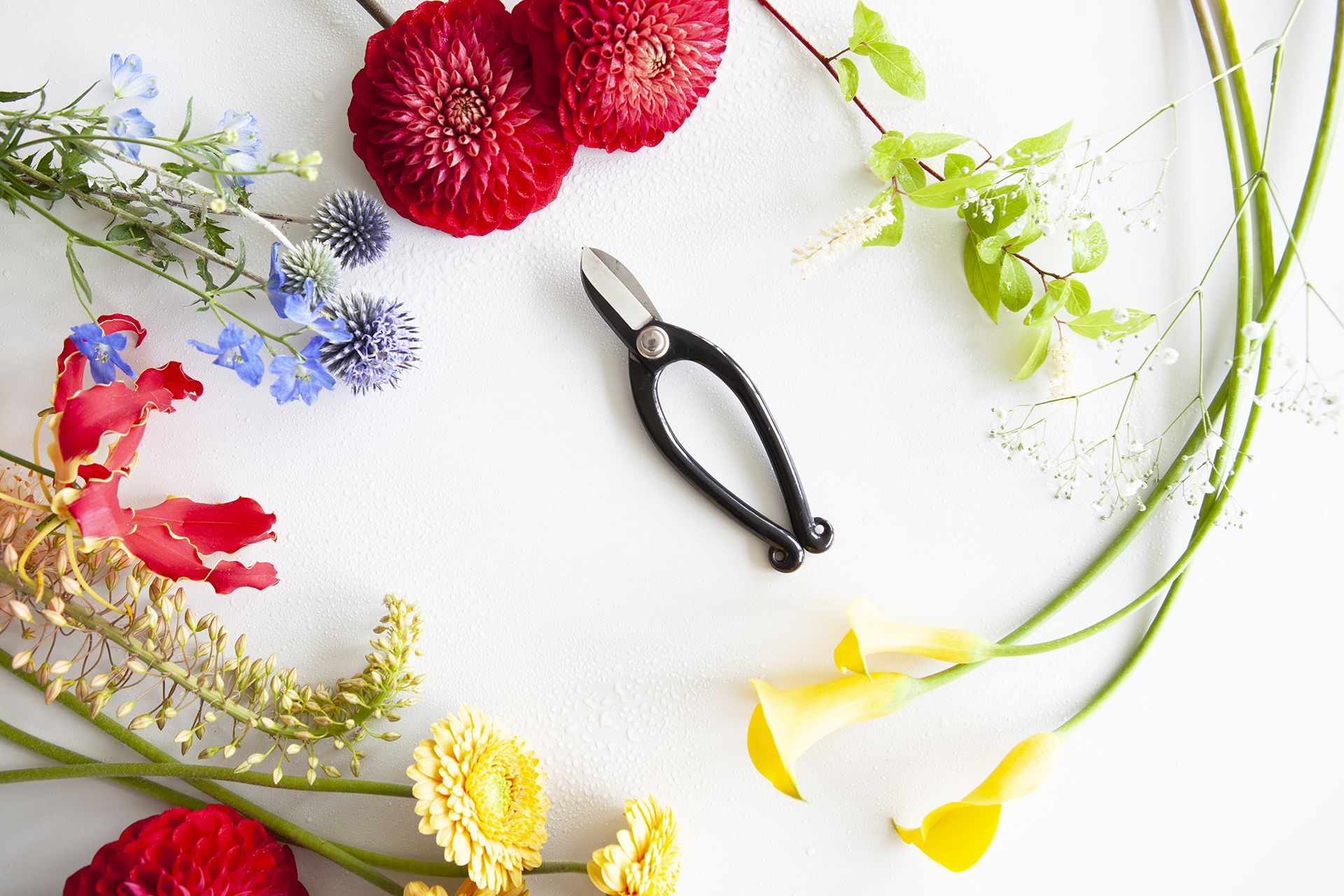 Ikebana trial lessons are open to everyone interested in trying their hand at ikebana.
Four kinds of courses are available to choose from. You can come with nothing, for example, after work or on your way home from school. All the necessary tools are provided in the classroom. The materials used in each lesson can be taken home so that the participants can try arranging them again at home. The lesson is designed to learn from the basics following Sogetsu Textbooks. Certificates are issued on completion of three or more courses.
If you wish to try ikebana or are interested in "giving yourself a boost" through Sogetsu ikebana, take this opportunity to enjoy the creative experience of flower arrangement and learning ikebana.
The courses range from one to nine trial lessons.
For those who would like to try just once or are considering taking regular lessons after the class, the one-lesson trial is recommended.
Other courses of three to nine trial lessons are designed for those who would like to enjoy ikebana as a hobby for a particular period or to take time before deciding to take regular lessons.
One-lesson course
Fee: 3,300 yen (including material fee)
"Booster classes" with three lessons
Fee for three lessons (with the validity period of three months): 8,800 yen (including textbook and material fee)
"Booster classes" with five lessons
Fee for five lessons (with the validity period of five months): 13,090 yen (including textbook and material fee)
"Booster classes" with nine lessons
Fee for nine lessons (with the validity period of nine months):23,890 yen (including textbook and material fee)
※If you join regular lessons after taking any course above, the finished curriculum will be counted as your credit(s).
※These trial courses are for those who have no previous experience of studying Sogetsu ikebana. If you have tried it already and wish to attend a class held at the Sogetsu Headquarters on a trial basis, click here and make a reservation of a regular lesson.
Time required for each lesson
90 to 120 minutes for making an arrangement, watching an instructor's ikebana demonstration and getting advice from the instructor.
Trial lessons organized by Sogetsu Headquarters are held at Sogetsu Kaikan in Akasaka, Minato Ward in Tokyo and at Sogetsu WEST, one station from Kyoto station.
The trial lesson will be held within an existing class.
Please choose the date and time you would like to participate from among the available dates listed on each class page, or contact our staff when you register.
Sogetsu Kaikan (in Tokyo)
Venue: Sogetsu Kaikan
2-21, Akasaka 7-chome, Minato-ku, Tokyo 107-8505
International Class
Target: For non-Japanese speakers
Every Monday except national holidays of 11:00 – 13:00
The International Class is given in English.
Iemoto Class
Target: Anyone
Tuesdays and Thursdays of the 1st and 3rd week of each month from 10:30, 14:00, 18:00.
[ATTENTION!!] Although the Iemoto Class is given in Japanese, English assistance is available without any extra fee.
The English speaking technical instructor will help you at the class on the day.
However, she/he has to take care of not only non-Japanese speaking student/s but also a lot of Japanese speaking ones for technicalities on the day.
Therefore, please note that she cannot be your exclusive interpreter.
Men's Exclusive Class
Target: For men
Fridays from 17:45 – 19:30
The Men's Exclusive Class is given in Japanese.
Sogetsu WEST
Venue: Sogetsu WEST
Hotel Emion 1F
20-4 Sujakudounokuchi-cho, Shimogyo-ku, Kyoto, Kyoto 600-8842
Iemoto Class
Target: Anyone
3 times a month Friday and Saturday 10:30 (Saturday only), 14:30, 18:30 (Friday only)
※The schedules are subject to change.
Contents of a trial lesson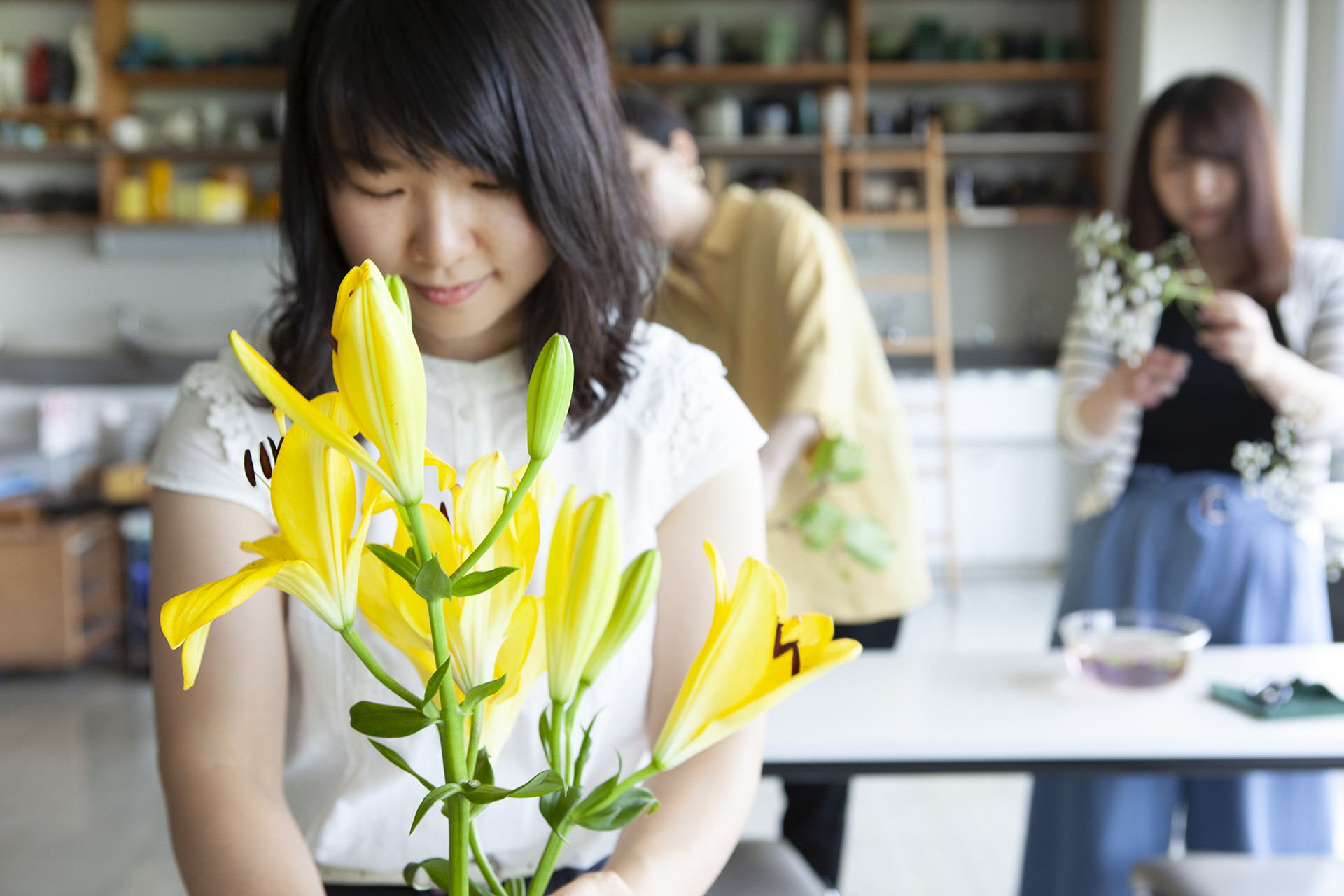 At the reception desk
Come to the reception desk of the venue by the reservation time. After the registration procedure, participants will be guided by the staff to the classroom, where other regular students are also coming for the class.
Start of the lesson
In addition to the instructor, some technical instructors are available to support the participants. They will explain how to handle plant materials, ikebana scissors, and kenzan (needle pointed plant holder.
Choose materials and container
The participants choose the materials and container freely. Technical instructors can give advice, if necessary, in accordance with each participant's preference.
Make ikebana work
The participants make their own ikebana works. Technical instructors will support participants carefully.
Instructor's ikebana demonstration
After the participants make their own ikebana works, an ikebana demonstration is conducted by the instructor. The live performance may broaden the participants' view on ikebana. Finally, the instructor gives comments and advice on the students' finished works one by one.
Going home with the materials
After the class, the used materials can be taken home. Going over the lesson, try arranging them again! Thank you for coming.
The following are commonly asked questions before attending trial lessons.
Feel free to ask other questions, if any.
Question: How long will each lesson last?
Answer: For around 60 to 90 minutes.
Question: What will happen if I am not in time for the lesson?
Answer: The participants can join the lesson if they arrive within one hour after the starting time (10:00, 14:00, or 18:00.) Contact Course Administration Department if you are later than that.
Question: Is there anything to bring to the lesson?
Answer: Nothing in particular. All the necessary tools are in the classroom.
Question: Can the materials used in the class be taken home?
Question: How long does it usually take for a beginner to become a teacher?
Answer: It depends on each person, but there are cases in which beginners become teacher's diploma holders in about three years.
Reservations can be made by phone, e-mail, or Reservation Form below, and accepted until just before the scheduled starting time of the lesson.